Sebelius Wrongly Insists She Cannot Legally Enroll in Obamacare in Heated Argument with GOP'er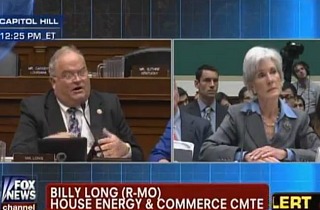 Health and Human Services Sec. Kathleen Sebelius engaged in a heated exchange with a Republican representative about whether or not she plans to enroll in the insurance exchanges associated with the Affordable Care Act like the members of Congress have done. Sebelius said that she already had health insurance and insisted that she believed it was illegal for her to enter the exchanges. Journalists and columnist covering the ACA's roll-out beg to differ.

Rep. Billy Long (R-MO) asked Sebelius why, as the "point person" for the ACA's roll out, why she was not planning on entering into the health exchanges. Sebelius had earlier insisted she believed it was illegal for her to do this, so Long rephrased it as a hypothetical.
"Will you commit to forego your government insurance plan that you're on now and join us in the pool?" Long asked. "Come on in. The water's fine."
"Sir, the way the law is written," Sebelius began before she was cut off.
"If you're wrong, will you go into the exchanges?" Long asked
"I will take a look at it," Sebelius replied.
Long exploded when Sebelius again insisted she thought it was illegal for her to enter the insurance exchange market.
Rep. Henry Waxman (D-CA) took a shot at Long for his line of questioning. "If you are able to do what the gentleman just suggested," Waxman asked, "and went in to buy an individual policy, would you be able to find one that would protect you from cheap shots?"
Cute.
"I would gladly join the exchange if I didn't have affordable insurance in my workplace," Sebelius replied, finally answering the question. The answer, by the way, is no.
It was good for her that the secretary signed off with a clear, binary response to Long's line of questioning because, as the law is written, nothing is preventing Sebelius from entering the exchanges.
Reporters and columnists on twitter burst into a frenzy after the first exchange in which the secretary was asked if she would enroll in the ACA exchanges. After the second exchange, their incredulity was palpable.



"If you have coverage from a job (or a family member's job), you're considered covered and won't have to pay the fee that uninsured people must pay," reads the explanation for those with Sebelius' inquiry on HealthCare.Gov. "You may be able to change to Marketplace coverage, but you might not qualify for lower costs on your premiums based on your income. This will depend on the type and cost of insurance the employer provides."
Most people will be eligible for health coverage through the Health Insurance Marketplace.

To be eligible for health coverage through the Marketplace, you:

must live in the United States
must be a U.S. citizen or national (or be lawfully present)
can't be currently incarcerated
Perhaps the secretary will have to clarify her objection to dropping her current insurance plan later, now that it's clear there are no legal barriers preventing her entry into the insurance exchange marketplace.
UPDATE: Sebelius was not only unaware that her position did not prevent her from enrolling in the exchanges, she was also unaware she is a Medicare beneficiary. "ThinkProgress has confirmed that Sebelius, who turned 65 in May, is enrolled in Medicare and is thus ineligible to enroll for insurance through the exchanges."
But, according to Business Insider's Josh Barro, there is nothing preventing Sebelius from withdrawing from her Medicare coverage plan and enrolling in the exchanges.
[Photo via screen grab ]
— —
> >Follow Noah Rothman (@NoahCRothman) on Twitter
Have a tip we should know? tips@mediaite.com