Sec. John Kerry On Week Of Revelations On Benghazi Attacks: 'I Really Haven't Learned Anything New'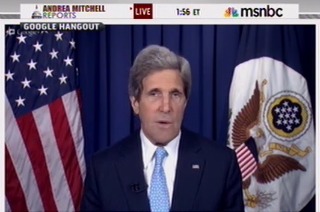 During a "Google Hangout," MSNBC host Andrea Mitchell grilled Secretary of State John Kerry on Friday about a week of revelations regarding how the United States responded to the attack on an American consulate in Benghazi. Mitchell asked about the week's events, beginning with the testimony by three career diplomats stationed in Libya and concluding with Friday's publication of the State Department talking points amended to remove references to Islamic terrorism. "I really haven't learned anything new," Kerry said.

RELATED: BBC Editor Claims 'Heads Will Roll' Over Benghazi, Admits He Saw It As 'Partisan Attack' Before ABC Report
"Can you reassure the American people today that was not a politically motivated cover-up [regarding Benghazi]?" Mitchell asked.
"What I have seen thus far, I have to tell you, after all of the hearings that I took part in as Chairman of the [Senate] Foreign Relations Committee, all of the briefings that I took part in – many of which were classified – I really haven't learned anything new," Kerry said.
He noted that four people died in the attack on the American consulate in Benghazi in pursuit of American interests. "It was a terrible event," Kerry said. "It was a terrorist attack – we all understand that."
Kerry said he respects the Benghazi whistleblowers, and said that they have gone through an emotional experience. He added, however, that losing America's ambassador to Libya is also an emotional experience.
Watch the clip below via MSNBC:
> >Follow Noah Rothman (@NoahCRothman) on Twitter
Have a tip we should know? tips@mediaite.com