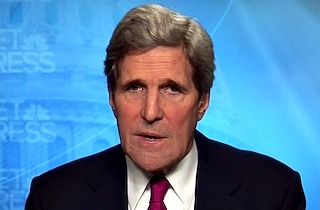 Secretary of State John Kerry came down hard on Russian President Vladimir Putin on NBC's Meet the Press Sunday morning, telling host David Gregory that Putin was operating from a position of weakness in invading the Crimean peninsula, and would end up squandering the prestige he just spent $51 billion on in the Sochi Olympics.
"President Putin is not operating from a place of strength here," Kerry said. "[Deposed Ukrainian President] Yanukovych was his, you know, supported president. Yanukovych was thrown out, despite Putin's support. Yanukovych turned on his own people. President Putin is using force in a completely inappropriate manner that will invite the opprobrium of the world and it already is."
RELATED: Stephanopoulos Grills Kerry: Is There Any Indication Putin Is Listening to Obama At All?
"He is not going to gain by this," Kerry continued. "He may be able to have his troops for some period of time in Crimea unless he resolves this. But the fact is, he's going to lose on the international stage, Russia is going to lose, the Russian people are going to lose. He's going to lose all of the glow that came out of the Olympics, his $60 billion extravaganza. He is not going to have a Sochi G8. He may not even remain in the G8 if this continues. He may find himself with asset freezes on Russian business, American business may pull back. There may be a further tumble of the ruble. There's a huge price to pay. The United States is united, Russia is isolated. That is not a position of strength."
Watch the clip below, via NBC News:
[Image via screengrab]
——
>> Follow Evan McMurry (@evanmcmurry) on Twitter
Have a tip we should know? tips@mediaite.com