Sec. Of Trans. Ray LaHood: Congress 'Went On Vacation' Instead Of Acting On FAA Partial Shutdown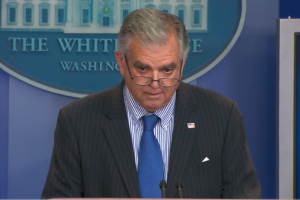 This week Congress officially started their month-long summer recess, because now that we've passed a debt ceiling bill, there's nothing else on the docket, right? Right?
Well, it turns out that while Congress was busy debating the debt ceiling, they did not reauthorize funding for the Federal Aviation Administration, leading to a partial shutdown of the agency all across the country. Thousands of employees have been laid off, and the FAA has ceased work on all construction projects.
It has been over a week since Congress failed to authorize FAA funding, and it is estimated that lost revenue from airline ticket taxes could total approximately $1.2 billion by the time Congress returns in September.
Today, Transportation Secretary Ray LaHood made an appearance at the White House press briefing and expressed frustration at members of Congress for going on vacation before resolving the issue.
"For members of Congress to give speeches about jobs, then go on their vacations, while construction workers have vacated their jobs, rings very hollow. Members of Congress could easily have put 74,000 construction workers and FAA employees back to work, but instead they went on vacation. Congress turned a blind eye to these workers and their families.

"The shutdown of the FAA is in its twelfth day. With members of Congress on vacation, this means they are leaving these 74,000 workers without a paycheck, without an ability to pay their mortgages, to pay their rent, to make car payments, to take their own families on vacation for at least six weeks."
LaHood called for Congress to return from their recess to resolve their disputes and pass a clean bill, adding that "the way [legislation] gets passed is compromise."
You can watch the video of LaHood's remarks below, courtesy of CNN:
Have a tip we should know? [email protected]
Josh Feldman - Senior Editor