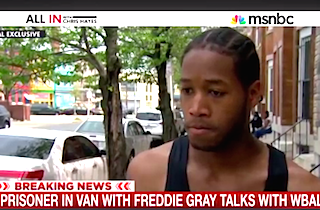 Last night, the Washington Post revealed details from a Baltimore police document regarding a second prisoner who rode in the same van as Freddie Gray that was given to them on the condition that they did not disclose the name of of that prisoner. But on Thursday afternoon, the man, Donta Allen, decided to identify himself to Baltimore's NBC affiliate WBAL-TV.
According to the WaPo's report, the second man believed Gray was "intentionally trying to injure himself" in a back of the police van before it was discovered that his spine had been partially severed, leading to his eventual death. But now Allen is disputing those claims, saying he only told homicide detectives that he heard a "little banging" in the section of the van where Gray was being held.
"When I got in the van, I didn't hear nothing," Allen told WBAL. "It was a smooth ride. We went straight to the police station. All I heard was a little banging for about four seconds." He added that while he thought Gray was "banging his head," now he knows that "they did something to him and his body's been wobbling back there… He can't hurt himself back in no paddy wagon!"
When the van arrived at the police station, Allen said he overheard the police say, "We gave him a run for his money," possibly meaning the "rough ride" that many believe killed Gray.
"When we got to the police station, they said he didn't have no pulse or nothing," Allen said later. "They called his name, 'Mr. Gray, Mr. Gray.' And he wasn't responsive."
Watch video below, via MSNBC:
Donta Allen, the 2nd prisoner in Freddie Gray's police van, speaks: "He can't hurt himself back in no paddy wagon" http://t.co/5Bdds5OBuf

— msnbc (@msnbc) May 1, 2015
Allen also spoke to WJZ-TV, where he asked, "Why the f*ck would he do that to himself?"
[Photo via screengrab]
— —
>> Follow Matt Wilstein (@TheMattWilstein) on Twitter
Have a tip we should know? tips@mediaite.com