Secret Service Arrests Shotgun-Wielding 'Offshore Banking Entrepreneur' For Threats Against President Obama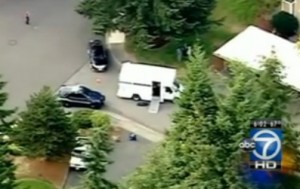 A Seattle, Washington-area man was arrested Tuesday night for allegedly making threats on President Obama's life, and for pointing a shotgun at a federal agent. When the Secret Service, along with the Federal Way Police Department, went to question 31 year-old Anton Caluori , whom Mediaite has confirmed describes himself in a LinkedIn profile as an "Offshore Banking Entrepreneur," about threatening emails he allegedly sent to an FBI general email address, authorities say he answered the door holding a shotgun. From WJLA:
A Secret Service agent and a Federal Way police officer went to an apartment in a four-plex at the Panther Ridge Apartments, knocked and announced themselves for about three minutes, then found themselves facing a man armed with a shotgun when the door opened, Schrock said.

"The shotgun was coming up to point in the direction of the agents," she said. "The two officers were able to close in and take control of the weapon before anyone was harmed."

The officers also seized a gun in the man's ankle holster, she said. Because the resident made statements about explosive devices in the apartment, the Federal Way bomb squad was called to evacuate the four-plex and sweep it for explosives, Schrock said.

None was found.
Caluori is due in federal court this afternoon.
A Secret Service source confirmed, for Mediaite, that the suspect "fancies himself part of the financial world, but isn't making much money," and confirmed details from the suspect's LinkedIn profile, which describes Caluori as an "Offshore Banking Entrepreneur,"and a graduate of DeVry University. Caluori makes some big promises to potential employers:
Invest in my offshore bank or put me in command of your next BIG project no matter the scope. Cut from executive cloth out of the king's linen; cultured, highly intelligent, refined, mature, orderly, hygienic, discreet, selective and gifted intuitive. Seeks massive responsibilities beyond normal tolerances, advanced self-awareness allows flawless multi-tasking plus. Is best suited for multi-billion dollar projects (lead role), important high-level government positions (president, representative, ambassador, spokesperson for the department of "x" etc…). Adaptation will be thoroughly applied without hesitation. Eager to take charge in life and death situations and can make the toughest decisions at any time (situation and circumstance dependent). Without disclosure and humor, am able to "work with" and "around" "gray technology", "nuclear weapons" and above "Top Secret" projects for any government on the planet (clearance dependent). Has held multiple security clearances "working with" and "around" ultra-sensitive documentation far exceeding sensitive financial data that would be found in average corporate/country setting; a banker by pleasure. An astrological leader that inspires and infuriates. Contains enough experience and maturity to satisfy your most exclusive position. Inform me of your situation, resources available, project(s) in-mind and/or your grand corporate vision. I can tailor a 500 year plan for your business similar to the Chinese 500, if you wish it done. Theorize and organize your chess pieces when and where they are needed, acquire personnel, equipment and space along the way, as needed. Are you a government leader? Do you "chair" for a "board of directors"? Is it time for one of your current C-level executives to be moving on? Need to increase shareholder's wealth by 1000-3000%. I will construct and execute your masterstroke or you can invest in mine.
The Secret Service won't comment further on the case at this time, but stresses that the President, who was campaigning in Ohio at the time, was never in any real danger.
Have a tip we should know? tips@mediaite.com