Secretary Of State Clinton: Violence In Response To Speech Is Not Acceptable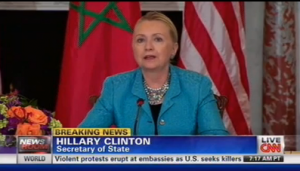 Secretary of State Hillary Clinton presented a message to an international audience Thursday morning as riots and protests continue to spread across the Middle East. Clinton specifically tied the violence to Innocence of Muslims — an English-language film, posted online this summer, that mocked the Muslim prophet Muhammad.
Stressing that the United States government had absolutely nothing to do with the video — which Clinton described as "disgusting" — the Secretary of State emphasized the U.S.'s commitment to religious tolerance, noting that it is "home to people of all religions, many of whom came to this country seeking the right to exercise their own religion, including, of course, millions of Muslims." We have, she added, "the greatest respect for people of faith."
It would seem that the purpose of the film in question, she said, is simply to "denigrate a great religion and provoke rage."
That said, Clinton emphasized that "there is no justification, none at all, for responding to this video with violence." Islam, she added, like many religions, respects the "fundamental dignity" of human beings, and violence goes against this principle.
"To attack an embassy," she said, "is to attack the idea that we can build understanding and a better future."
She also noted that, in conjunction with our commitment to freedom of religion, our country has a commitment to freedom of expression, and, as such, we do not stop individual citizens from expressing their views, "no matter how distasteful."
"Violence in response to speech," she said, "is not acceptable."
Have a look at her remarks, via CNN:
Have a tip we should know? tips@mediaite.com