Undisclosed Locations And Low-Light Liveshots: Reporters Adapt To Risks In Egypt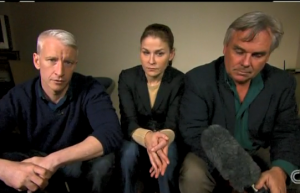 In the hours before dawn in Cairo, CNN's Anderson Cooper reported from inside a dimly-lit room in a building deliberately described as "an undisclosed location near Tahrir Square." The appearance of Cooper, perched on a couch alongside some of the network's extensive reporting team in Egypt, was a visual indication of how rapidly the security situation has deteriorated for American journalists in Egypt.
"I honestly don't know when I can leave this building," Cooper told The Hollywood Reporter. "I have no idea what's going to happen in the next couple of hours." Earlier in the day, Cooper and crew were attacked by pro-government "demonstrators" as they attempted to cross Tahrir Square. Punched, shoved and threatened, the crew retreated, leading to hours of live reporting on CNN and other networks with top talent off camera to avoid exposing them to the bright lights that might expose their location.
At ABC News, whose correspondent Christiane Amanpour was surrounded while on assignment and then attacked as she and her ABC crew retreated in a car, security trumps coverage. Tom Nagorski, ABC News' Managing Editor for International Coverage told Mediaite "We rely heavily on the smarts and experience of our people on the ground. (Yesterday's) events posed a particular challenge–given the sudden and powerful insertion of the forces that stormed Tahrir Square. It's clear that journalists and cameras have become targets for some Egyptians on both sides–and that introduces a dangerous dynamic as well."
The street smarts of experienced international journalists like Cooper were on display during the incident Wednesday, as Cooper explained to viewers why he, his photographer and producer walked away from the attack, rather than running. Cooper said their experience taught them running would inflame the crowd and bring on a heightened mob mentality. "He has a security adviser with him," said Tony Maddox, executive vp, CNN International, told THR. "We will make other security advisers available. The last thing Anderson would want is his presence to upset the balance of what he's seeking to do. He's a very professional correspondent."
Watch Cooper reporting from the network's "undisclosed location" on AC 360, from CNN:
Have a tip we should know? tips@mediaite.com