See the Marco Rubio 'Voter Shaming' Mailer the Cruz Campaign is Whining About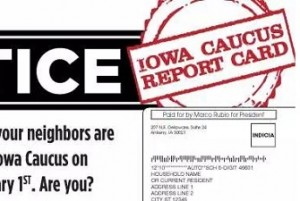 Among a flurry of last-minute subplots in the Battle for Iowa is the Ted Cruz campaign's "voter shaming" mailer that looks like a parking ticket designed by SPECTRE, informing Iowa voters of a possible "Voting Violation." The mailer drew strong condemnation from Iowa Secretary of State Paul Pate (who actually has quite a lush head of hair), and may actually be a violation of the law itself.
On Monday morning, CNN anchor Chris Cuomo asked key Ted Cruz Iowa surrogate Rep. Steve King (R-IA) about the mailer, and while King indicated that he wished that things like this mailer "didn't happen," he also claimed that Sen. Marco Rubio (R-FL) "has almost an identical document out there" that the Iowa secretary of state has not seen fit to condemn:
King: If it was a violation, I think the secretary of state would have said so. We know Marco Rubio has almost an identical document out there, a shaming document. We are still waiting for the secretary of state to issue a similar statement. So politics couldn't play a part at all in this going on in Iowa.

Cuomo: You think the secretary of state is anti-Cruz?

King: I don't know that. If that was his professional opinion, he has an obligation to do the same thing when Marco Rubio has a similar document out there.
That's a good point, if it's true. As it turns out, Rubio does have his own "voter shaming" mailer circulating in Iowa, and King is absolutely right, campaigns use these all the time. As a refresher, here's another look at Ted Cruz's mailer: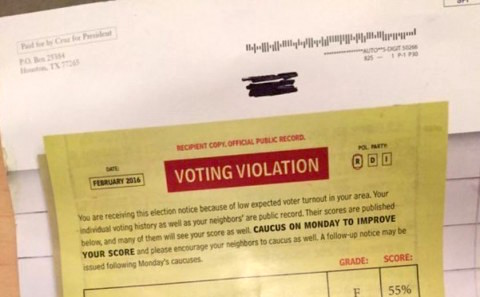 Now let's take a look at Rubio's "almost identical" mailer: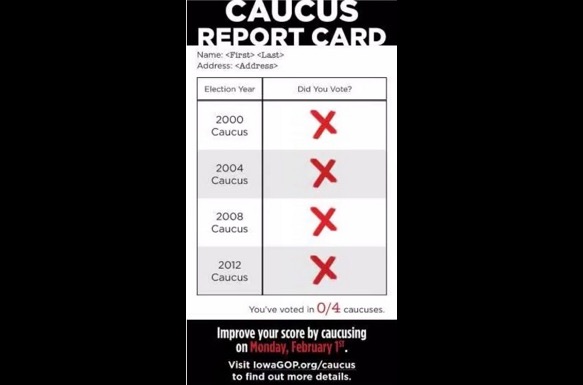 I guess you could say they're "almost identical," except for the fact that Rubio's "Iowa Caucus Report Card" lacks that whole you're-about-to-get-thrown-into-a-Dubuque-gulag-to-have-your-fingernails-torn-out vibe. Pate specifically referenced the "voting violation" language in Cruz's mailer, which Rubio's mailer lacks. Maybe Pate should issue a statement condemning Rubio for threatening voters with a Saturday detention.
Have a tip we should know? tips@mediaite.com