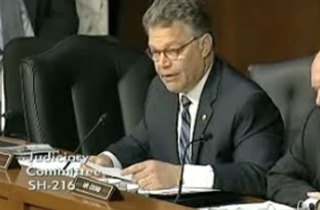 During a Senate hearing on the repeal of The Defense of Marriage Act (DOMA), Minnesota Senator Al Franken (D) addressed written testimony by Tom Minnery, the executive director of Focus on the Family's CitizenLink, where, according to his professional bio, he acts "as a steady voice articulating the conservative Christian viewpoint on family, marriage and religious civil liberties issues. His views and influence have helped to shape public policy at both the national and state levels."
Senator Franken seemed to feel Minnery was not being completely honest or forthright regarding certain aspects of his testimony or, perhaps, that he was interpreting certain terms incorrectly or in a biased manner. To wit:
Mr. Minnery, on page eight of your written testimony, you write, "Children living with their own married, biological, and/or adoptive mothers and fathers were generally healthier and happier; had better access to health care; less likely to suffer mild or severe emotional problems; did better in school; were protected from physical, emotional, sexual abuse; and almost never live in poverty compared with children in any other family form.

You cite a Department of Health and Human Services study that I have right here from December 2010 to support this conclusion. I checked the study out. [At this point, others at the hearing laughed.] And I would like to enter into the record, if I may, it actually doesn't say what you said it says. It says that nuclear families — not opposite sex married families — are associated with those positive outcomes. Isn't it true, Mr. Minnery, that a married same sex couple that has had or adopted kids would fall under the definition of a nuclear family in the study that you cite?
"I would think that the study," answered Minnery, "when it cites nuclear families, would mean a family headed by a husband and wife."
Franken disagreed:
It doesn't. [Laughter.] The study defines a nuclear family as one or more children living with two parents who are married to one another and are each biological or adoptive parents to all the children in the family. And I frankly don't really know how we can trust the rest of your testimony if you are reading studies these ways.
The question at hand, then, is whether to assume that a nuclear family, by the very definition of that term, includes a man and a woman who are parents, or simply two parents, regardless of their gender.
Have a look at footage from the hearing, via ThinkProgress:
Update: Politico reached out to the author of the study discussed by Minnery and Franken, who said Franken was correct in his interpretation of the study's definition of what, exactly, constitutes as a nuclear family:
Sen. Franken is right," the lead author of the study told POLITICO. The survey did not exclude same-sex couples, said Debra L. Blackwell, Ph.D., nor did it exclude them from the "nuclear family" category provided their family met the study's definition.

The study's definition of nuclear family is: "one or more children living with two parents who are married to one another and are each biological or adoptive parents of all the children in the family."

That means the study does not provide evidence that straight couples' children necessarily fare better than same-sex couples' kids, as Minnery claimed.
Have a tip we should know? tips@mediaite.com