Sen. Ayotte Endorses Immigration Reform On Face The Nation, Says 'Nobody Wants To Filibuster This'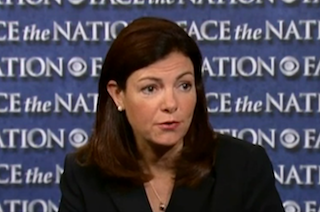 On CBS' Face the Nation, New Hampshire Senator Kelly Ayotte announced her support for the Gang of Eight's immigration reform bill, a contentious piece of legislation currently being debated in the Senate. Ayotte's support, along with that of other high-profile Republicans like John McCain, Lindsey Graham, and Orrin Hatch, would make the bill's passage considerably more likely.
"This is a big deal," host Bob Schieffer said.
"This is a thoughtful bipartisan solution to a tough problem," Ayotte said. "I looked at the border security provisions; the e-verify to make sure we control who's getting a job in this country; and also making sure that there's a better legal immigration system, bring the high-tech workers here to make sure that we can have the best and the brightest here in this country to grow our economy; and finally the eleven million—bringing them out of the shadows, in a tough but fair way, for them to earn citizenship, go to the back of the line, pay taxes, pass the criminal background checks, learn English. So this is a good bipartisan solution and I look forward to supporting it."
Schieffer pointed out that Ayotte's support renders a GOP filibuster next to impossible.
"I don't think anybody wants to filibuster this," Ayotte said. "This is a debate we have to have for the nation and the status quo is unacceptable. We need to solve this problem to make sure that we have the work force we need, and that we don't have another wave of illegal immigration and that's what needs to happen."
The Gang of Eight, in order to ensure the stamp of bipartisanship, are aiming for seventy votes for the bill. More conservative senators like Jeff Sessions, John Cornyn and Ted Cruz have been pressuring bill co-author Marco Rubio to push the provisions toward the right, some say with the sole intent of making it unacceptable to Democrats.
Watch Ayotte's interview here, via CBS:
—
>> Follow Evan McMurry (@evanmcmurry) on Twitter
Have a tip we should know? tips@mediaite.com