Sen. Chuck Schumer Thanks Shepard Smith For Coverage Of 9/11 Responders Bill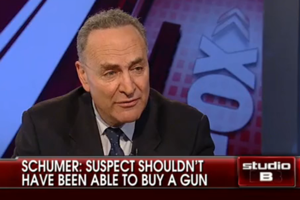 Perhaps all the talk of toning down heated political rhetoric has hit home with some in Congress, or at least has prompted an extra effort in reaching across the cultural aisle. Democratic Senator Chuck Schumer is probably one of the last members of Congress to be expected heaping praise upon Fox News personalities, but this afternoon he did just that to Shepard Smith for his coverage of the 9/11 responders' bill last month, which he credited for helping the aid bill pass.
Sen. Schumer visited Smith this afternoon to discuss the Tucson shootings and their impact on his work in Congress, calling for stricter gun laws while pointing out that there already are significant gun laws like the Brady Law that should prevent people like Jared Loughner from acquiring weapons. He also noted that, while he was in favor of the Second Amendment in its entirety, there are always exceptions to the rule– the First Amendment, he noted, did not bar laws against shouting "fire" in a crowded theater.
Schumer also discussed his colleague Sen. Mike Udall's proposal that partisan seating be eliminated at this year's State of the Union address, which he approved of. "Symbolism influences reality," he noted; "We love spirited debate– that's America, we don't sweep it under the rug, we debate!"
And on that note, he took the opportunity to thank Smith for his work on Fox News, telling Smith that he "really helped us with the 9/11 responders' bill" and that "Your talking about it and bringing to light the fairness of that bill, I think, helped to pass it, and I thank you for that.
Smith sheepishly accepted the compliment: "Just trying to get what's out there!"
The mutual appreciation in this clip is exactly what many have been demanding from cable news and the media in general in light of the Tucson shootings, and certain to please all those who look at the shouty political media with disdain.
The segment via Fox News below:

Have a tip we should know? tips@mediaite.com