Sen. Claire McCaskill To Morning Joe: 'I Think Mitch McConnell Has Lost His Mind'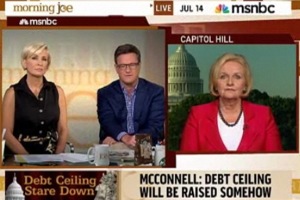 As debt negotiations between Democrats and Republicans intensify, it seems lawmakers are responding to the pressure in different ways. While reports suggest President Obama stormed out of a meeting yesterday, Democratic Senator Claire McCaskill demonstrated her frustration with the process in a humorously loopy appearance on Morning Joe calling the Republican caucus in the House a "hot sloppy mess" and thinking some of her colleagues have become crazy.
McCaskill essentially threw her hands up in disbelief at the Republican position, saying:
"Why aren't the Republicans stepping up and saying we need to get rid of all these tax goodies and lower the corporate rate, lower the individual rate and apply some of the money towards the deficit. That's the thing that can make the deal right now. And for the life of me, I can't figure out – I think Mitch McConnell, frankly, has lost his mind."
Later McCaskill admitted maybe she shouldn't be so harsh on McConnell, but stressed that she was disappointed that his statements and his plan are so "brazenly political." Instead she wishes everyone could put politics aside for ten minutes, get a deal done, and then McConnell can return to his obvious mission of doing everything possible to become Majority Leader in the Senate.
McCaskill also expressed her disapproval of McConnell's "back-up plan" that would allow President Obama to raise the debt ceiling without Republicans voting for it. Given that the White House, Nancy Pelosi and Harry Reid suggest that they might be open to the plan, McCaskill's stance is interesting. Yet Joe Scarborough agreed with her completely, saying if he was a Senator like her with an election coming up in a tough state, "I would tell anybody in the White House that says this is a good idea to go straight to hell." Scarborough concluded that voting to increase the debt ceiling three times before 2012 would be "political suicide." And since McConnell's plan would potentially force Democrats into that position, might that be proof that McConnell actually hasn't lost his mind at all?
Watch the clip from MSNBC below:

Have a tip we should know? tips@mediaite.com