Sen. Cotton Fires Back: Biden's Been Wrong on Foreign Policy for Last 40 Years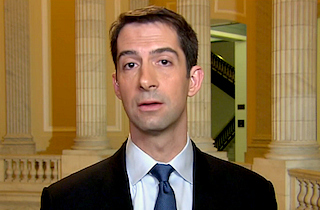 Senator Tom Cotton (R-AR) defended his open letter to the Iranian government on Morning Joe Tuesday morning, and fired back at Vice President Joe Biden for his criticism of the diplomatic end-run.
Cotton's letter warned Tehran any nuclear deal negotiated with President Barack Obama not approved by the Senate was simply an executive action and could thus be voided by the next president; the letter was signed by forty-seven other senators, including Senate Majority Leader Mitch McConnell (R-KY). Monday evening Biden called the letter "beneath the dignity" of the Senate.
"Joe Biden, as Barack Obama's own secretary of defense has said, has been wrong about nearly every foreign policy and national security decision in the last 40 years," Cotton said, referring to former Defense Secretary Robert Gates' verdict on Biden last year. "Moreover, if Joe Biden respects the dignity of the institution of the Senate he should be insisting that the president submit any deal to approval of the Senate, which is exactly what he did on numerous deals during his time in Senate."
RELATED: Brzezinski: Iran Letter Shows GOP 'Obsessed' with Undermining Obama
Cotton dismissed any notion that Iran could be negotiated with.
"They've been killing Americans for 35 years, they've killed hundreds of troops in Iran, now they control five capitols in the Middle East," he said. "They are nothing but hardliners in Iran and if they do all of those things without a nuclear weapon, imagine what they would do with one."
Cotton called for Iran to agree to complete nuclear disarmament (though Iran does not yet have any nuclear weapons to disarm). When it was pointed out that a lack of diplomatic options could leave only military ones, Cotton said he would be fine with that, noting that previous strikes by Israel on nuclear facilities in Iraq and Syria had been effective in preventing the development of those nuclear weapons programs.
Watch the clip below, via MSNBC:
[Image via screengrab]
——
>> Follow Evan McMurry (@evanmcmurry) on Twitter
Have a tip we should know? tips@mediaite.com