Sen. Durbin Picks Fight With Fox And Bret Baier For 'Harping On' Removal Of 'God' From DNC Platform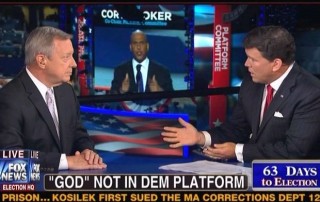 During Tuesday's edition of Special Report, Fox News host Bret Baier asked Senate Majority Whip Dick Durbin about the news that the Democratic Party removed all mention of the word "God" from their party platform, and have removed mention of Jerusalem as the capital of Israel. Durbin did not take kindly to the questioning, and unfairly accused Baier and the network of "harping on" a narrative that doesn't focus on the "real issues" facing Americans.
"If the narrative that is being presented on your station and through your channel and your network is that the Democrats are godless people, they ought to know better," Durbin said sharply to Baier after being asked why the word was removed from the platform. "God is not a franchise of the Republican Party. Those of us who believe in God and those of us who dedicated our lives to helping others in the name of God don't want a second seat to anyone suggesting that one word out of the platform means that the Democrats across America are godless," he continued.
"No, no, no," Baier shot back, "I don't think that is what is being said. We're reporting what is in the platform." He continued to explain that in 2008, "God" was mentioned once and in 2004, it was mentioned seven times. "Why take it out in this time?" he asked.
"If you're trying to draw some conclusion that the Democrats are godless, present your evidence," Durbin snapped.
"I'm not drawing a conclusion," Baier defended. "I'm just asking the question why was the word taken out."
Insistent, Durbin fired back: "I'm just telling you that you are harping on a trifle. We know both parties are devoted to this country, both parties are God-fearing parties. Let's get on with the agenda about creating jobs in America."
Baier then asked Durbin about why the DNC removed mention of Jerusalem as the capital city of Israel. "Why the changes were made?" he asked again.
"To suggest that this document and the the insertion of two words here and one word there now defines politics in America suggests to me you are not focusing on the real issues that Americans care about," Durbin responded.
In response, Baier pointed out that "Democrats in Tampa talked about the Republican platform and what was and what was not in there. I am asking about the changes and words, I'm asking why. I'm not drawing conclusions."
It is completely fair for Baier to ask about a senior Democratic Senator about his party's platform, especially given how the Democrats (at times rightfully) obsessed over the Republican Party's platform just a week ago. Durbin's annoyance at the mere question reveals a bit of a double-standard on his part.
Watch below, via Fox News:
— —
>> Follow Andrew Kirell (@AndrewKirell) on Twitter
Editor's note: This post has been edited since its original posting – Jon Nicosia
Have a tip we should know? tips@mediaite.com