Sen. Graham: 'Apparently Nobody's Been Listening to What McCain and I Have Been Saying'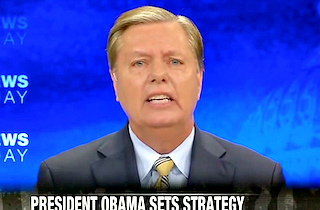 Senators Lindsey Graham (R-SC) and John McCain (R-AZ) have been two of the most frequent guests on the Sunday political shows over the past few years, but Graham is beginning to wonder whether anybody has been even been listening to them.*
Guest host John Roberts asked Sunday morning if the best way to fight ISIS is to embolden Iraqi and Syrian forces rather than rely on a U.S. military presence that could further inflame anti-American sentiment.
"Apparently nobody's been listening to what Senator McCain and I have been saying for the past three years!" a revved-up Graham answered. "We said train the Free Syrian Army so they can take this fight on. Instead of training the Free Syrian Army, the president overruled his entire national security team and abandoned the Free Syrian Army."
"I want a regional coalition," Graham continued. "I want the Free Syrian Army in the fight. I want Arab countries in the fight. But here's what I'm tired of hearing from this administration and my friends on the other side and within the party, that this is somehow easy and really not our fight. Name one Arab army you could put together anytime soon to deal with a terrorist army of over 30,000 without a substantial American commitment…I am tired of hearing from this administration how easy this is going to be."
* I go in and out.
Watch the clip below, via Fox News:
[Image via screengrab]
——
>> Follow Evan McMurry (@evanmcmurry) on Twitter
Have a tip we should know? tips@mediaite.com