Sen. Graham Rips Obama, Hillary Ahead Of Benghazi Hearing: Either 'Political Spin' Or 'Detached From Reality'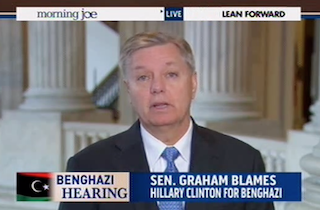 Sen. Lindsey Graham (R-SC), who's been vocal about his criticism of how the Obama administration has handled Benghazi, paid a visit to Morning Joe on Wednesday ahead of today's hearing during which witnesses are set to testify. Echoing some points he's been emphasizing for a while, the senator further hit the president and Hillary Clinton for possibly being "detached from reality."
Pointing to White House "spin," Graham said he hoped the new testimony will put the attack "into better context." While the Accountability Review Board did offer recommendations and note problems, the senator argued that it didn't answer all the questions.
"The story of Benghazi is that, after the attack, there was an effort by some senior people to put some spin on this," he asserted. "Because they were so close to the election."
To that point, Joe Scarborough questioned whether than political aspect was Graham's biggest concern or that the ambassador's requests for additional security went unfulfilled.
"My biggest concern is that this is an example of how the light footprint is not working," Graham replied, citing President Obama's policies in the region. It's "foreign policy gone wrong." He continued:
"When Secretary Clinton told on the 14th of September family members, we're going to prosecute the guy who made that video — how could she possibly have said that? Either she was totally detached from reality in Benghazi or putting political spin. And on the 18th of September, when the president went on Letterman and said this was the result of a hateful video, a week after the attack, I think the president needs to explain that statement. Either he's really detached or he was putting a political spin on it and that's important."
Graham did have a few kind words about Obama's foreign policy however — when it came to drones. In that arena, the president has "upped his game in a very good way."
Take a look, via MSNBC:

Have a tip we should know? tips@mediaite.com