Sen. Harry Reid Calls Ted Cruz A 'Schoolyard Bully' For Mundane Budget Objection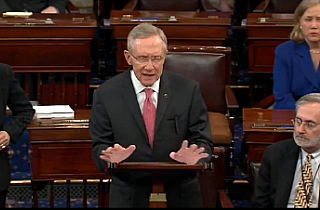 Rookie Texas Sen. Ted Cruz (R-TX) got under Senate Majority Leader Harry Reid's (D-NV) skin on Monday, when he objected to Reid's run-of-the-mill procedural motion to appoint conferees for the Senate's budget.
Cruz wanted Reid to amend his motion to preclude any continuing resolution that would increase taxes or raise the debt ceiling. It's the latest wrench thrown into the process by Republicans, who have lost their zeal for the budget they voted for six weeks ago.
"The Senate considered the budget, and that's an understatement," Reid said, citing the over 100 amendments the chamber took up. "The Senator from Texas was on the losing side. He had his view, and it lost. But now he wants us to agree by consent to adopt the losing side's view, or he's not going to allow us to go to conference."
"My friend from Texas is like the schoolyard bully," Reid continued, in a statement tailor-made for a future Cruz ad. "He pushes everybody around, and is losing, and instead of playing the game according to the rules, he not only takes the ball home with him, but changes the rules. That way, no one wins, except the bully."
"I wasn't aware we were in the schoolyard," Cruz responded, at which point Reid asked whether he had an objection or not.
"It's actually fairly ridiculous," Reid said, "if you want the truth, to, before we go to conference, determine what you are going to do or not do in the conference. That's not how we do things around here."
Watch the whole exchange here:
[h/t The Hill]
– –
>> Follow Evan McMurry (@evanmcmurry) on Twitter
Have a tip we should know? tips@mediaite.com