Sen. Harry Reid Considering Boxing Legislation After Last Weekend's Pacquiao Loss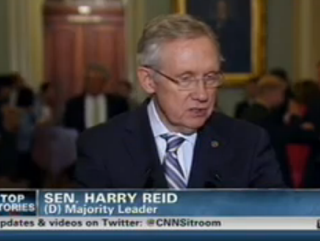 File this one with Sen. Chuck Schumer's anti-Eduardo Saverin law under "potential legislation targeted at isolated events and people": Senate Majority Leader Harry Reid told the Senate floor today that, as he and Sen. John McCain had been trying "for years" to pass national legislation to address the sport of boxing, they may use the Pacquiao loss to Timothy Bradley last weekend as an excuse to draft laws against boxing fraud.

RELATED: Piers Morgan Spars With Manny Pacquiao, Obviously 'Declares Victory' For Himself
It is not entirely shocking that boxing champion Manny Pacquiao would prompt legislation– Pacquiao is a Congressman in the Philippines– but not this way. Pacquiao lost in a decision to Bradley this weekend, one in which many people watching the fight argued that there was no way a good judge would have given the fight to Bradley. According to CNN today, Sen. Reid apparently agreed, as he called it a "simple bad decision that may prompt legislation," but given the amount of backlash towards the boxing industry, there might be enough political capital to pass reforms that could help the industry.
"I am confident that there was nothing untoward," Reid said today, noting, "I think people just make bad decisions in a lot of things, including judging boxing." Despite this, he noted that Sen. McCain and he had wanted to draft a law about boxing for a while, and "it doesn't hurt to clear the air." He did not give any specifics into what sort of reform can stop bad judging or what type of federal regulation could work (particularly given that boxing is a major industry in Nevada and New Jersey but not too much else), but the ideas are circulating.
The report via CNN below:

—–
»
Follow Frances Martel on Twitter
Have a tip we should know? tips@mediaite.com