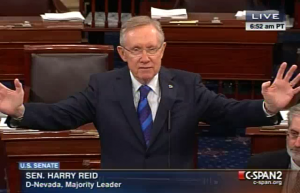 On the floor of the Senate earlier today, Harry Reid continued to criticize Republican presidential candidate Mitt Romney over continuing to withhold his tax returns, and remarked that "the word's out" about Romney not paying any taxes for ten years, without mentioning the fact that it was Reid himself who spread that word in the first place.
RELATED: Jon Stewart: 'You, Harry Reid, Are Really, Really Terrible'
Reid first scolded his Republican colleagues for making the defeat of President Obama a top priority in the coming months, before going after the tax plan touted by Romney that the Tax Policy Center said yesterday would put higher tax burdens on lower- and middle-class Americans. Reid pointed out that Romney's campaign had previously touted the Tax Policy Center as a nonpartisan group before dismissing it as partisan. Reid called Romney's tax plan "a massive handout to the top one percent."
Reid then turned to the issue of Romeny's tax returns, arguing that if a candidate for cabinet secretary was before Congress, their tax returns would need to be thoroughly inspected, and repeating his claim about Romney not paying taxes for a decade.
"The word's out that he hasn't paid any taxes for ten years. Let him prove that he has paid taxes, because he hasn't."
Even after the barrage of criticism Reid received yesterday for his claim and lack of factual information to back up the claim, Reid gave no sign that he was going to retract his remarks or apologize for them.
Watch the video below, courtesy of CSPAN:
Have a tip we should know? tips@mediaite.com
Josh Feldman - Senior Editor