Sen. Harry Reid: 'The Tea Party Will Disappear as Soon as Economy Gets Better'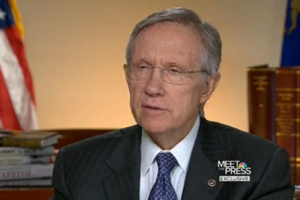 Senate Majority Leader Harry Reid— who almost lost his job in a tight race against Tea Party candidate Sharron Angle— seems much more confident in the challenge the Democrats face from that faction now than ever before. In a preview for an exclusive interview with Meet the Press's David Gregory airing tomorrow, Reid contends that the Tea Party will be a thing of the past as soon as his Congress can fix the economy– a goal not so far off the horizon.
Asked about the challenged from Angle and, more extensively, whether the Tea Party was a "lasting force in American politics," Reid replied with little hesitation that the economy created the Tea Party, and the economy has the power to destroy it. With confidence in the work the government is doing to repair the damage in the economic sector, Reid believes it will take little to take down the movement:
"The Tea Party was born because of the economy. The economy is probably the worst it's ever been except for maybe the Great Depression. The Tea Party will disappear as soon as the economy gets better– and the economy is getting better all the time."
A bold prediction, and one that the Tea Party will either take as a shot to their legitimacy or mere wishful thinking, both on the "better economy" front and on the short half-life of the Tea Party. Giving his fellow Democrats in Congress a light at the end of the tunnel however, especially after the November midterm elections, is likely a smart move for morale as Majority Leader.
The full interview airs tomorrow on NBC's Meet the Press. Watch the preview below:

Have a tip we should know? tips@mediaite.com