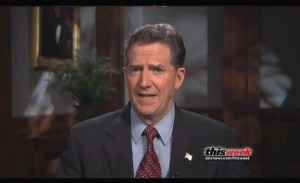 On ABC's This Week today, Senator Jim DeMint went after President Obama for his upcoming speech this week on jobs, asking for a written proposal that can be calculated by the CBO instead of an address by the president to Congress.
Rather than dwelling too long on Speechgate 2011: The Incredible One-Day Saga Of A Minor Scheduling Issue, DeMint focused on the expected content of the president's speech and threw cold water on Christiane Amanpour's question of whether any of the president's plans would be able to get Republican support.
I'm, frankly, very tired of speeches. I don't want to be disrespectful to the president, but what I want to see is something in writing and what the Congressional Budget Office tells us it's going to cost so that we can not only read it ourselves, but the American people can read it. Speeches, we've found, are not very similar to the actual legislation.
DeMint claimed there was a disconnect between the White House and American businesses on job creation, and dismissed President Obama's upcoming speech as just "pandering to his base." Because according to DeMint, "as the Congressional Budget Office said, we can't score a speech."
The senator certainly has a point when it comes to the value and content of a speech versus actual legislation, but speeches are generally used to sell ideas to people in the most effective form possible. A good communicator like President Obama can use the bully pulpit to explain to Congress and the American people his specific goals for job creation in the immediate future. If he can convey those ideas effectively, then the speech will have achieved its desired effect. Otherwise, it will be a missed opportunity.
Watch the video here, courtesy of ABC
This is an opinion piece. The views expressed in this article are those of just the author.
Josh Feldman - Senior Editor