Sen. Jim Demint 'Doesn't Want To Be Disrespectful' But He 'Can't Listen To Another Political Speech' From Obama
Sen. Jim Demint: 'I Can't Listen To Another Political Speech' From Obama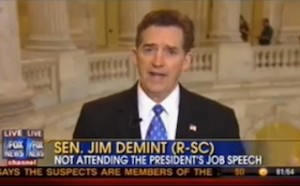 On Fox and Friends Thursday morning, Sen. Jim DeMint (R-SC) explained the ostensible reason he will be skipping President Obama's address before a joint session of Congress, telling Gretchen Carlson that he "can't listen to another political speech from this President," but also making clear to co-host Steve Doocy that he didn't "want to be disrespectful to the office or to the President personally."
Makes sense, though. President Obama is obviously the first president ever to give a political speech before a joint session of Congress, right? The rest of them just talked about gardening and stuff, right?
Demint is just one in a line of GOP lawmakers to announce they plan to skip the speech, and while DeMint has a small laundry list of complaints (the President doesn't put plans on the table – except when he does; the President is subservient to "union bosses"; the President gives political speeches, instead of…not doing that?), none seems to really explain why, despite his fervent desire not to disrespect the President, he's doing so anyway.
Well, there is one possible hint, revealed by Steve Doocy, who asked DeMint, "So, you're expecting a lecture?"
DeMint replied, "Well, it will be a lecture and again, i don't want to be disrespectful to the office or to the President personally, but this is a serious problem that needs to be dealt with in a way that's much more professional than another political speech."
Exactly. Just who does this guy think he is to summon and lecture Jim DeMint, or Joe Walsh, or any Republican legislator?
Disrespecting President Obama sells to the Tea Party base, plain and simple, and disrespecting the presidency is a new normal to the mainstream press, just another scribble in the political playbook. Those empty seats, though, won't sell so well to the millions of Americans who are looking for solutions, not games.
Here's the clip, from Fox and Friends:
Have a tip we should know? tips@mediaite.com