Sen. Joe Lieberman: Secret Service Acted 'Like A Bunch Of College Students Away On Spring Weekend'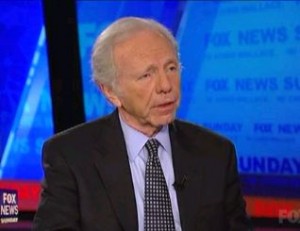 Senator Joe Lieberman appeared on Fox News Sunday today to talk about the continuing fallout from the Secret Service scandal and how Congress plans on fully investigating the matter. Lieberman, the chairman of the Senate committee on homeland security, said he is taking the matter "very seriously" because of how important the Secret Service is to the security of the president. He said that their actions are beneath the agency, and compared the agents involved to "a bunch of college students away on spring weekend."
RELATED: President Obama Says He'll Be Angry If Secret Service Allegations Are True
Lieberman noted that sex has been used to "compromise" people who have very close ties to the president or matters of national security in the past. Chris Wallace asked Lieberman if there was any evidence so far that the prostitutes the agents brought back to their hotel were able to easily access private information. Lieberman says that so far, "no information was compromised," but he added that he didn't like what precedent this incident sets for how seriously people should judge the Secret Service. He said the Senate committee will be sending the head of the agency some serious questions as they start the investigation.
Wallace brought up the case of the agent who was not only in Colombia when this scandal broke, but served on Sarah Palin's Secret Service detail during the 2008 presidential campaign. He asked Lieberman if this was part of a larger culture of under-the-radar misconduct by the Secret Service. Lieberman opted not to speculate, though he did admit he doubts this was "an isolated incident."
He offered up a simple, basic question he would like to ask the Secret Service during the investigation.
"What are the regulations, the rules of conduct that are drilled into Secret Service agents about what behavior is expected of them when they're on assignment but off-duty?"
Lieberman said that at this point, there is no evidence that any White House staffers were aware of any misconduct before the scandal broke, though he did suggest that this would be part of the investigation to make sure that no one on the president's staff was involved. He also said reports of cocaine being found in one of the hotel rooms was not conclusive yet.
RELATED: Colombian Escort Details Her Encounter With Secret Service Agent
Watch the video below, courtesy of Fox:
Have a tip we should know? tips@mediaite.com
Josh Feldman - Senior Editor