Sen. Lindsey Graham Reacts To Obama's Proposal To GOP: 'I Think We Are Going Over The Cliff'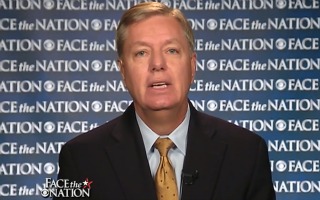 Sen. Lindsey Graham (R-SC) appeared on CBS News' Face The Nation on Sunday where he was asked to react to President Barack Obama's opening bid in the ongoing negotiations between the White House and Congressional Republicans to avoid going over the fiscal cliff in January. Graham's reaction to the bid was as concise as it was pessimistic: 'I think we're going over the cliff," Graham said.

RELATED: Geithner: White House Willing To Go Over The Cliff If Republicans Don't Agree To Raise Tax Rates
"It's pretty clear to me they've made a political calculation," Graham told Bob Schieffer, suggesting that he thinks the White House now has little intention of striking a deal to avoid the automatic spending cuts and tax increases scheduled to take effect in January.
Graham voiced support for House Speaker John Boehner's (R-OH) proposal, which includes increasing government revenues through tax code reformation, but only in exchange for concessions from Democrats on reforming entitlement programs.
"John Boehner is serious about revenue," Graham said. "He'll get a lot of pushback, but a lot of Republicans will rally around John Boehner about limiting deductions to raise somewhere between $700 and $800 billion in revenues."
"I bet you this: if you took the president's plan and put it on the floor of the House and the Senate, he would get very few votes for his plan," Graham concluded.
Watch the clip below via CBS:
> >Follow Noah Rothman (@Noah_C_Rothman) on Twitter
Have a tip we should know? [email protected]