Sen. Lindsey Graham To Congress: 'Shut Up' Complaining About Obama's Libya Strategy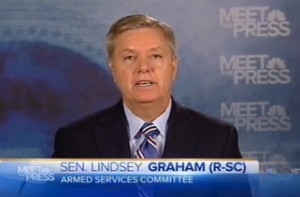 Republican Senator Lindsey Graham agrees that President Obama has not been a decisive or clear leader when it comes to American involvement in Libya; however, he distinguishes himself in a major way from congressional Republicans like Speaker of the House John Boehner, who are suggesting the use of the War Powers Act to threaten an end to the Libyan military operation. Graham's simple and blunt advice: "Congress should sort of shut up and not empower Gaddafi."
Graham elaborates on why he doesn't support his own party's effort to challenge Obama's Libyan strategy:
"I would take the course that conservatives have been taking for the last 30 years, The War Powers Act is unconstitutional, not worth the paper its written on. . . . I think it's an infringement on the power of the commander in chief. The president's done a lousy job of communicating and managing our involvement in Libya, but I will be no part of an effort to defund Libya or to try to cut off our efforts to bring Gaddafi down. If we fail against Gaddafi, that's the end of NATO."
Graham seems to be suggesting that risking the entire overseas region falling into chaos if we don't finish the job in Libya, is not worth the trade-off of scoring political points against Obama at home. Yet it remains to be seen whether everyone in Congress, regardless of their political party, is as comfortable as Graham is ceding power to the President on such matters.
Have a tip we should know? tips@mediaite.com