Sen. Marco Rubio: 'I Have Never Seen A President Pit Americans Against Each Other Like This One Does'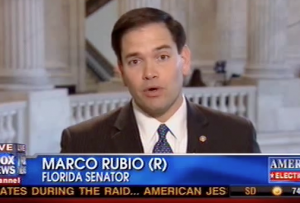 Sen. Marco Rubio (R-Fla.) made a guest appearance on Fox & Friends Wednesday, and railed against the policies of President Barack Obama, saying that the President had a Democratic House and Senate for two-thirds of his presidency, and only has failed policies to show for it.
"What you didn't hear last night from the President — he didn't talk about the successes of this administration enough. Because there [aren't] any. The fact of the matter is — you know, usually at this point in a Presidential career, you're talking about some of your accomplishments and how your ideas and plans have worked. He touched on it briefly but he really didn't delve into it, because after three years, he has very little he can point to and, in fact, all these factors we're talking about are worse than they were three years ago."
Steve Doocy brought up the President's point last night of having to toy with taxes in the interest of fairness. Rubio said that the tax issue was an important one, because, "I have never seen a President pit Americans against each other like this one does."
The topic then moved to the upcoming Florida primary, a race in which Rubio has yet to take a side. "I'm interested in why you're not endorsing anybody," host Gretchen Carlson asked. "Romney did campaign for you in your state, so why won't you endorse Romney or anyone else?"
"Governor Romney was helpful to me in my campaign and I'm grateful for that," Rubio responded. "And Speaker Gingrich is someone I've known for a few years, he was helpful to me when I was speaker of the Floor of the House. So I've decided rather than delve into the politics of it, [I will] let Florida voters decide."
Carlson later asked if Rubio isn't endorsing a candidate because he's a prospective Vice-Presidential candidate for both Newt Gingrich and Mitt Romney.
"On the contrary," Rubio replied. "some people say you should!"
Watch the full interview with Rubio below, courtesy of Fox News:
Have a tip we should know? tips@mediaite.com