Sen. Marco Rubio: Most Republicans Are 'Compassionate' To Plight Of Illegal Immigrants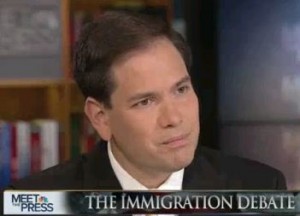 Florida senator Marco Rubio stopped by Meet the Press today to promote his new book An American Son and talk about immigration policy. David Gregory highlighted a passage from Rubio's book suggesting much of the anti-immigrant rhetoric has a racial tone to it. Rubio explained that the remark was not directed at just people in his own party, and praised the GOP as being overwhelmingly "compassionate to the plight" of illegal immigrants, while admitting many Hispanics would not just simply vote for Mitt Romney because of a change in position on immigration.
RELATED: Rubio: Obama's Immigration Directive An 'Election Year Stunt' That 'Poisons The Well'
Gregory read an excerpt from the book where Rubio says, "I begin to wonder if some of the people who speak so disparagingly about immigrants would be just as worked up if most of them were coming from Canada." He told Rubio this suggests a "level of racism" coming from the anti-immigration people, and asked about what kind of problem the Republican party in particular has with this issue.
Rubio first clarified that not all the voices he's referring to are Republicans, and defended his party as a whole for its position on immigration.
"The enormous, vast, and overwhelming majority of Republicans are supporters of legal immigration, are compassionate to the plight of… illegal immigrants, but understand that America cannot be the only country in the world that doesn't enforce its immigration laws."
He criticized the DREAM Act as "too broad, and said no serious immigration reform would get done this year because firstly, it's an election year, and secondly, because the issue has been "politicized by the president."
Watch the video below, courtesy of NBC:
Have a tip we should know? tips@mediaite.com
Josh Feldman - Senior Editor