Sen. Rubio Scolds Univisión Anchor Over Alleged Blackmail: 'You Persecuted My Family'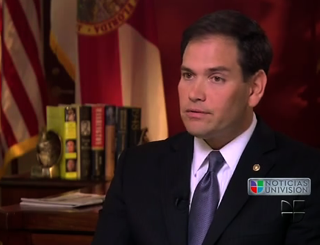 Univisión and Florida Sen. Marco Rubio have had a tense relationship for more than a year, since the Miami Herald alleged that the network offered to "kill" a story about the senator's brother-in-law in exchange for a story. Sen. Rubio sat down with Univisión's Jorge Ramos this week to discuss, among other things, his book, and when Ramos noted that the story Univisión offered to kill was in the book, Sen. Rubio berated the anchor for that "black mark in the history of Univisión."

RELATED: Four GOP Candidates To Boycott Univisión Debate Over Alleged Sen. Marco Rubio Blackmail
Ramos brought up the anecdote in the book about his sister, whose husband was arrested for drug-related charges. "That's exactly what we reported at Univisión," Ramos explained, adding that he understood "why that hurts you and your family," but asking, "don't voters have a right to know what relationship you had with someone related to drug trafficking if you rise to the presidency?"
Sen. Rubio wasted no time in tearing into the network:
"Number one, I believe that– and I'm going to explain it– because [sic] what happened with Univision in that case was very lamentable. I believe it will still remain as a black mark in the history of the Univisión Network and of Univisión News, and I'm going to explain to you why. If you had questions, and I say 'you' meaning Univisión, about what impact that had on me, then you should have called me directly. Unfortunately, that is not what Univisión did. Univisión called people related to the case, Univisión called my sister directly, Univisión showed up in front of her house."
When Ramos tried to say the network went to the senator's office, he declared that a lie and argued that the network "stationed a team of cameras in front of my mother's house trying to capture the cameras." Over Ramos attempt to explain the story, Sen. Rubio argued that the story was "not about me, it was the personal story of two private citizens who have nothing to do with politics."
"I should have been asked about those links," he continued, "I would have been pleased to tell you that I had nothing to do with it, I was 16 years old; it had a very negative impact on my family; it was a very sad moment." Instead of doing that, Sen. Rubio accused the network of "persecut[ing] first my sister, then my family directly," adding that Univisión never called him, that "it was me who called Univisión… because I thought it was a joke." The "persecuting" quote and the point about him being the one to call the network and not vice versa, as well as a comment about him being taken completely out of context on Twitter thanks to the network, didn't make it to air today, but appear on the official transcript of the interview.
Sen. Rubio does address his links to his brother-in-law: "I was 16, I bathed the dogs in his back yard, he probably gave me presents," but concluded, "my family has nothing to do with politics."
The clip via Univisión (in Spanish, with transcript under video) below:

RUBIO: "Number one, I believe that, and I'm going to explain it because what happened with Univision in that case was very unfortunate. I believe it will still remain as a black mark in the history of the Univision Network and of Univision News, and I'm going to explain to you why. If you had questions, and I say you meaning Univision, about what impact that had on me, then should have called me directly. Unfortunately, that is not what Univision did. Univision called people related to the case, Univision called my sister directly, Univision showed up in front of the house."

RAMOS: "We looked for an answer from your office."

RUBIO: "No, that is not correct. Univision first called my sister, it stationed a team of cameras in front of my mother's house trying to capture the cameras, that is, if the story was really about me, they would have contacted me first."

RAMOS: You were 16 years old.

RUBIO: "Let me finish, excuse me Jorge… later in the headline news of the national news of Univision, I understand that you were not on the air that night, but in the headlines of Univision national news they had the story that it was not about me. It was the personal story of two private citizens who had absolutely nothing to do…"

RAMOS: "But linked to you."

RUBIO: "Well, then, I should have been asked about those links. I would have been pleased to tell you that I had nothing to do with it, I was 16 years old; it had a very negative impact on my family. It was a very sad moment, but you did not do that; you persecuted first my sister and my family directly. What's more, it was me who called Univision, Univision did not call me because I thought it was a joke that someone was kidding, or that someone was trying to hurt me…"

RAMOS: "Now the story is true, you write it, it is there written on page 60."

RUBIO: "Correct, but that is not the problem. You did not call me, you called my family, it went beyond that, on the following day on Twitter, a well-known character, they put things like "Marco Rubio has links to drug trafficking" without explaining on Twitter, and later a Univision reporter asked the governor of Florida if I should resign for something that happened over 20 years ago…That is ridiculous."

RAMOS: "I understand that, but if you are going to get to the vice presidency, even the presidency of the United States, this type of connection had to be talked about…"

RUBIO: "But, Jorge, this is public record and if Univision calls me and asks me, look, we understand that it happened in your family, how did it affect you, what do you think, I would have been pleased to have answered all that."


—–
» Follow Frances Martel on Twitter
Have a tip we should know? tips@mediaite.com