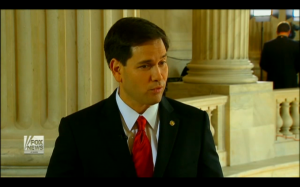 Speaking On The Record with Greta Van Susteren last night, Florida Sen. Marco Rubio sounded none-too-pleased with the prospect of President Obama's American Jobs Act. "Really, the only job it's designed to protect is his, and that's why he's put it out," he surmised. According to the freshman senator, the plan is more a political move than a serious effort to create jobs. "What the president is saying he wants to do to help create jobs in America is not going to work," he said.
As Rubio sees it, Obama's plan goes about things mostly wrong: it's all been tried before, costs too much money, or fails to create necessary economic opportunity. "What we really need is some basic things," he suggests instead, citing tax reform, regulatory reform and certainty about our debt. "It's not exciting, the media hates when I say it. They say it's not new, nothing novel. That's like telling a farmer to stop focusing on fertilizer and water."
Accordingly, he tells Van Susteren:
I think he sincerely believes that presidents and senators can create jobs. There are things we can do to create an environment for job creation, but ultimately jobs are created by everyday people from all walks of life….our job is to make it easier for them to do that.
There's still hope. "If we tackle these issues, if we do a few simple things," he says, "I think the 21st century will be better than the 20th." We might just have to be patient.
Watch the segment, courtesy of Fox, below:
Have a tip we should know? [email protected]