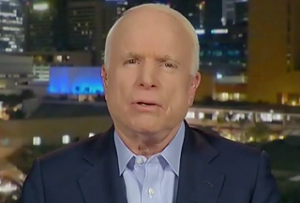 The practice of appointing political donors to important ambassadorships is a tale as old as time, but John McCain is getting real tired of it. On Fox News Thursday night, he let loose bashing President Obama and the utterly "ignorant," "clueless" nominees he's selected, telling Greta Van Susteren it's just embarrassing for the country.
McCain has interrogated a number of these nominees, and the ignorance they have towards the countries they're supposed to be dealing with is just too much for words. For example, Norway ambassador nominee George Tsunis praised the country's president. They don't have a president. They have a king. And Colleen Bell, Obama's nominee to be the ambassador to Hungary, is best known for her work as a producer for television soap operas.
All presidents do this, but it's worse now, McCain argued, because "these are important countries and we're sending people one, who have never been there, but second of all, are clueless!"
And McCain has very little in the way of stopping this, because Harry Reid activated the nuclear option for presidential appointments. He just had to laugh at how ridiculously transparent their obliviousness is.
"It's kind of entertaining and amusing how ignorant these people are, never having seen the country, but it's also really disturbing because it's a disservice to our country to send that kind of unqualified candidate to represent us and our interest there in these countries."
Watch the video below, via Fox News:
And if you're in need of a good cringe-watch, check out this video of McCain interrogating the nominated ambassadors to Hungary and Norway:
[photo via screengrab]
— —
Follow Josh Feldman on Twitter: @feldmaniac
Have a tip we should know? tips@mediaite.com
Josh Feldman - Senior Editor