Sen. McCaskill: Police Militarization 'More Problem Than Solution' in Ferguson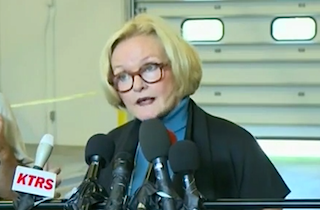 Sen. Claire McCaskill (D-MO) traveled to Ferguson, Missouri Thursday in order to assess the situation on the ground following the fatal shooting of unarmed 18-year-old Michael Brown by a police officer in that city over the weekend. Following a press conference by Ferguson's police chief, McCaskill approached the podium and took some questions from reporters.
Asked what she thought of the police action against protesters over the last several days in Ferguson, McCaskill said she think the officers have gone too far. "Last night, I think the militarization of the response became more of the problem than any solution," she said. "I think it escalated the situation, it didn't deescalate the situation." She said her goal has been to get the police force to stop using "military responses" and "see if we can't get back to good, solid police work that keeps the protesters safe."
The senator also said she had just spoken to Attorney General Eric Holder on the phone about the "militarization of police departments all across this country." She said that following the attacks on September 11, 2001, the U.S. began equipping police departments will "all types of tools that had not been typical of policing," often in a "knee-jerk" fashion.
"Maybe it's time to look at all of that and make a determination as to how effective is a show of what is military force in an obviously, intensely emotionally charged environment like the people of Ferguson are facing," she said.
Watch video below, via PBS:
[Photo via screengrab]
— —
>> Follow Matt Wilstein (@TheMattWilstein) on Twitter
Have a tip we should know? tips@mediaite.com