Sen. Mike Lee Grills Eric Holder on Executive Orders: 'But You're the Attorney General…'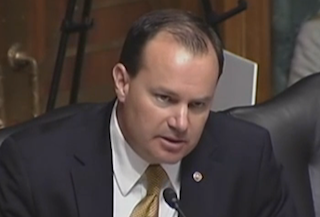 The day after he delivered the official tea party response to President Barack Obama's State of the Union, Sen. Mike Lee (R-UT) aggressively challenged Attorney General Eric Holder on the constitutional basis for the executive orders Obama announced in his speech.
After questioning Holder about NSA surveillance programs, Lee moved on to discuss the president's renewed efforts to bypass Congress with executive orders. He asked Holder specifically about the legal basis for the executive order that effectively delayed the Affordable Care Act's employer mandate.
"I'll be honest with you, I have not seen — I don't remember looking at or having seen the analysis in some time," Holder said of the three categories Lee laid out that Obama could have used to delay the mandate, "so I'm not sure where along the spectrum that would come."
"But you're the attorney general, I'm sure he consulted you," Lee interrupted, as Holder attempted to explain that he did not know what basis Obama had used for his executive order.
When Holder pushed back against Lee, saying that Obama's limited use of executive orders have not gone outside of his constitutional powe, Lee responded, "General Holder, I respectfully, but forcefully, disagree with the assertion… When you look at the quality, not just the quantity but the quality, the nature of the executive orders that he has issued, he has usurped an extraordinary amount of authority within the executive branch."
Watch the full video of Lee's section of the hearing below:
[h/t TheBlaze]
[photo via screengrab]
— —
>> Follow Matt Wilstein (@TheMattWilstein) on Twitter
Have a tip we should know? tips@mediaite.com