Senator Harry Reid Doesn't Need To Hear "Sanctimonious Lectures" On The Meaning Of Christmas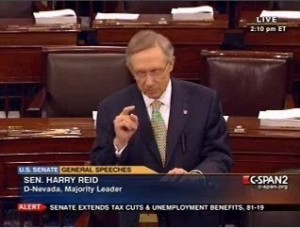 It seems like not many in Washington are embracing the holiday spirits. First Republican Senator Jim DeMint expressed his anger to Politico about potentially having to work through Christmas, saying "you can't jam a major arms control treaty right before Christmas, [this] is just wrong. This is the most sacred holiday for Christians." And Senator Jon Kyl told the New York Times political blog that it's impossible to get everything Democrats want done by the end of the year, "without disrespecting the institution and without disrespecting one of the two holiest of holidays for Christians." The effort to paint Senate Majority Leader Harry Reid as the Grinch who will steal Christmas did not sit well with Reid, and earlier today he hurled a few verbal lumps of coal in the direction of his Republican colleagues.
Reid first wanted to agree with the assessment of some Congressional observers that he's presided over the "most successful, productive Congress in the history of the country" and which was done in spite of all the Republican roadblocks. Then he blamed Republicans, and more specifically their 87 filibusters, for creating wasteful delays throughout the year and putting the Congress in its current time-constrained predicament. Reid then really let loose:
I don't need to hear the sanctimonious lectures of Senator Kyl and DeMint to remind me of what Christmas means. . . . [S]ome of my Republican colleagues have the nerve to whine about having to stay and actually do the work that the American people pay us to do. We make large salaries . . . we could work as most Americans do during the holidays. . . . It's offensive to me and millons of working Americans across this country for any Senator to suggest that working through the Christmas holidays is somehow sacrilegious or disrespectful."
Then Reid suggested Kyl and DeMint have been in Washington too long, because many Americans across the country have to work hard during the holidays to support their family and not many get off for a full two weeks at any time during the year. Reid's final shot was a tough love warning to Republicans, "if they decide to work with us we can all have a happy holiday. If they don't we're going to continue until we finish the people's business."
Despite not helping to spread the holiday cheer, it's hard to disagree with Reid. Members of Congress get much time off throughout the year, including typically taking a week or two off for major holidays and taking off the whole month of August. If Kyl and DeMint don't want Reid's policies to pass, that's fine, but stay there as long as necessary, debate the issues and vote. As Reid correctly points out, that is in fact their job. In this tough economic environment, Republican elected officials should not expect to find sympathy from the American people if they want to avoid their responsibility to celebrate the holidays while Americans across the country still desperately look towards Washington for solutions.
Watch the clip from C-SPAN below:

Have a tip we should know? tips@mediaite.com