Sen. Richard Lugar Loses Primary Election To State Treasurer Richard Mourdock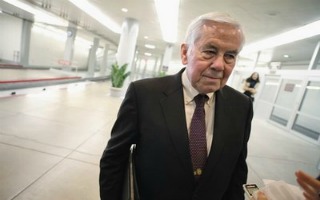 According to NBC News Indiana Sen. Richard Lugar lost his bid for a seventh term in the Senate in Indiana's Republican primary election on Tuesday to State Treasurer Richard Mourdock. The new Republican Senatorial nominee from Indiana will face 2nd District Rep. Joe Donnelly in the general election in the fall.

RELATED: Will Cain Grills Six-Term Incumbent Sen. Richard Lugar: 'When's Enough Enough?'
Lugar has the option of running as an independent or a write-in candidate, as Sen. Lisa Murkowski did successfully in 2010. However, the most likely scenario remains a Mourdock/Donnelly race. Donnelly narrowly defeated Republican nominee Jackie Walorski in the 2nd district race in 2010 amid a wave election that forced 63 sitting Democratic House members out of the lower chamber.
Polling of this matchup is scarce at this point, but a HoweyPolitics poll of 503 likely voters from March 26 – 27 shows the race tied at 35/35. A full 20 percent of voters are either undecided or will support another candidate in November.
40 percent of those surveyed had no opinion of Mourdock, indicating he is not yet well known in the state. That same poll showed that Massachusetts Re. Mitt Romney leads President Barack Obama with 49 to 40 percent support and the state's governor, Mitch Daniels, has the approval of 63 percent of voters, suggesting that the support of either politician could help push Mourdock over the top in November.
However, Donnelly is also not particularly well known. 53 percent of voters have no opinion of the two-term 2nd district representative. Donnelly has a 20-point advantage in the city of Indianapolis over Mourdock. If President Obama's approval in the Hoosier State ticks upward or turnout in the state's urban areas is high, Donnelly has the potential to win Lugar's long-held Senate seat.
Have a tip we should know? tips@mediaite.com