Sen. Rob Portman On CNN: Supporting Gay Marriage Is 'Consistent With My Political Philosophy'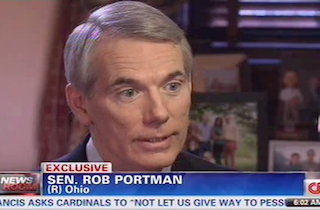 Republican Sen. Rob Portman (R-OH) made news this morning with an opinion piece about his support for gay marriage — a "change of heart" that was influenced largely by his son who is gay. In an interview with CNN's Dana Bash, Portman spoke further about his stance on the issue, which he said is "consistent" with this political philosophy.
RELATED: GOP Sen. Rob Portman Reveals His Son Is Gay And He Now Supports Gay Marriage
Asked about his reaction when his son came out as gay, Portman replied, "Love. Support. 110 percent."
"Surprise?" Bash asked, to which Portman replied that he had no idea, but it "launched a process of rethinking the issue."
Bash went on to ask whether he told Mitt Romney about his son when he was vetted to be a vice presidential candidate in 2012. Portman said he did and that it didn't affect Romney's decision because "he told me."
"I would say that, you know, I've had a change of heart based on a personal experience," he later added. "I hadn't expected to be in this position. But I do think, having spent a lot of time thinking about it and working through this issue personally, that, you know, this is where I am for reasons that are consistent with my political philosophy. Including family values, including being a conservative who believes the family is a building block of society."
With the Supreme Court considering the issue now, Portman said he knew there would be questions about his position, adding that it took him a little while to arrive at his position.
"I'm comfortable there now," he said.
Take a look, via CNN:

Have a tip we should know? tips@mediaite.com