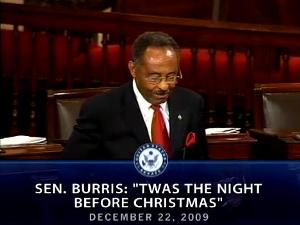 Sen. Roland Burris has had quite a 2009 – going from one time Illinois Attorney General to Rod Blagojevich-appointed U.S. Senator.
How do you cap off the whirlwind year? A little health care-themed Christmas poetry on the Senate floor.
Burris addressed his Senate colleagues yesterday. "I see no reason why we can't share good cheer with one another right here in Washington," he said before announcing he would "share my own version of a classic holiday story with my good friends on both sides of the aisle."
Then he began to recite "Twas The Night Before Christmas" – with a new version based on the health care debate. Gather round, kids, Sen. Burris has a story for you: "It was the night before Christmas, and all through the Senate, the right held up our health care bill, no matter what was in it"
And so on. There was rhyming "raucous" and "caucus," rhyming "public plan" with "Yes We Can" and then, sadly, came the big finish: "Better coverage for all – even our friends on the right."
Out of all the health care debate viral videos that have come from the past few months – holding babies, prayers of various kinds, Stuart Smalley getting tough – this may be the most surreal. Burris was introduced to the media world (and national political world) almost exactly a year ago, and has since gone on to break away from the original Blagojevich connections. But wasn't Blago a poetry fan himself? Maybe he was involved in the creative process.
By the way, this YouTube video was posted on the Senate Democrats' account, which means they clearly are proud of this (or they just want the extra views for their channel).
Here's the full poem (h/t Breitbart.TV):



—–
» Follow Steve Krakauer on Twitter
Have a tip we should know? [email protected]