Sen. Rubio Follows Up On His SOTU Response On Fox & Friends — With Water Bottle In Hand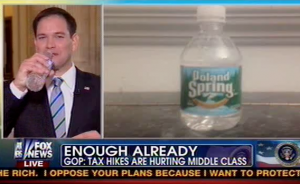 Sen. Marco Rubio (R-FL) paid a visit to Fox & Friends on Wednesday morning, to speak about President Obama's State of the Union speech… as well as his own. Even though the segment was less than 10 minutes long, Rubio came prepared with a bottle of water.
RELATED: Historic Thirst: Marco Rubio Becomes His Own State Of The Union Drinking Game
Before getting to substance, host Steve Doocy asked Rubio about his made-for-social-media water bottle moment.
"My mouth got dry, and I had to get some water," Rubio replied, laughing. "I figured I would better off taking the water and taking the hit for it than being unable to pronounce my words. It had been a long day at work, we had already done an 18-minute recording in Spanish. My mouth got dry — what can I say?"
He then went on to note that he came prepared for the interview with a water bottle, with Doocy allowing him to take a swig before proceeding.
With that out of the way, the pair went on to discuss Obama's policy proposals, with Rubio rebutting them. Doocy noted that Obama's message consisted of saying that we'll be spending a lot but somehow it won't cost us anything.
Specifically, Rubio took issue with the federal mandate for universal pre-school, which he said should be a state issue, and raising the minimum wage, which he said historically and economically isn't a sound solution.
Furthermore, he responded to why he voted against the Violence Against Women Act yesterday.
"I would have voted to reauthorize the existing law," he said. He offered one example of a part of the bill he disagrees with: It would require Florida to "take money away from domestic violence programs and give it to sexual assault programs."
"If we want to fund the sexual assault programs, put more money in there for that," he said. "But don't take money away from domestic violence programs that are working well in Florida."
If it "comes back clean," Rubio said he'd vote for it.
The segment also addressed Obama's possible desire to get Democrats back to controlling both the Senate and the House — but Rubio noted that Democrats won't be regaining the House.
Take a look, via Fox News:

Have a tip we should know? tips@mediaite.com