Sen. Rubio Takes On MSNBC's Todd Over Obama Admin's 'Culture Of Intimidation' Following IRS Scandal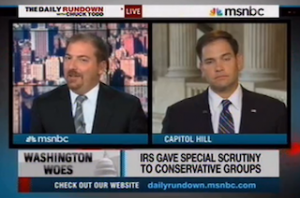 MSNBC's Chuck Todd began his interview with Sen. Marco Rubio (R-FL) this morning by asking him what he thought about President Obama's statement last night regarding the resignation of the IRS' acting commissioner. While he thought the move was "appropriate," Rubio said he's still waiting for Obama to address the "culture of intimidation" that his administration has created.
"It's just the beginning," Rubio said of Obama's actions so far on the IRS issue. "It's not nearly enough. There should be prosecution of individuals responsible here in abusing their power. He added, "I also think it's important for the president to be honest about the culture of intimidation that his administration has created here." Rubio pointed to recent comments made by the president about Rush Limbaugh at a New York fundraiser, which he said were meant to scare Republicans into turning their backs on their base.
"Both sides play politics," Todd challenged Rubio, "and both sides like to try to figure out the motivations of the other side when they are talking to political supporters. This is not new to the American political system, Senator." When Rubio came back with more examples of political maneuvering from Democrats, Todd said, "Your PAC put out an e-mail raising money on the IRS issue and doing a petition. That's campaigning. That's politics, too."
"Here's the point," Rubio shot back, "I'm trying to get a petition of American citizens and Americans who support us in this endeavor to rally people. That's different to say I'll put on my website every donor to the Obama campaign and attack that individual, a private citizen by name, and I'm going to try to create this culture where people feel intimidated and oppose me. Those are two very different things I'm talking about."
Rubio then, at the urging of Todd, tied the broader issue of "distrust of government" following the IRS situation to the immigration reform bill he's been trying to push through Congress. "One of the impediments is a lack of trust in the federal government," Rubio said, adding that he's hearing that sentiment from both sides of the aisle. "The fundamental problem we have faced is people saying to us 'we don't trust the federal government, we don't think the plan the federal government will come up with will be good.' And obviously any time people lose trust in the government even more, it makes it harder to make that argument."
Watch video below, via MSNBC:
—
>> Follow Matt Wilstein (@TheMattWilstein) on Twitter
Have a tip we should know? [email protected]