Sen. Susan Collins Slams Anti-Kavanaugh Groups for Trying to 'Buy Votes and Buy Positions'
On Sunday, Sen. Susan Collins sat down with 60 Minutes' Scott Pelley to talk about the aftermath of her decision to vote 'yes' on Brett Kavanaugh's confirmation, a move that made it all but certain that Kavanaugh would become the next Supreme Court justice.
At one point, the talk turned to how Collins decision was not playing well in her home state of Maine.
"A website went up over these last couple of weeks collecting funds for whoever your opponent may be in 2020," Pelley said. "And the deal was that if you voted for Kavanaugh, then the credit card pledges would be processed. If you voted against Kavanaugh they wouldn't process the credit card numbers and something over $2 million was raised."
In response, Collins slammed the groups using the fundraising tactic that she said amounted to a "classic quid pro quo" and an attempt at vote-buying.
"This is a classic quid pro quo as defined in our bribery laws," she said.  "They are asking me to perform an official act and if I do not do what they want, $2 million plus is going to go to my opponent. I think that if our politics has come to the point where people are trying to buy votes and buy positions, then we are in a very sad place."
So far, the Crowdpac fundraiser has raised over 3.5 million. Collins is not up for re-election until 2020.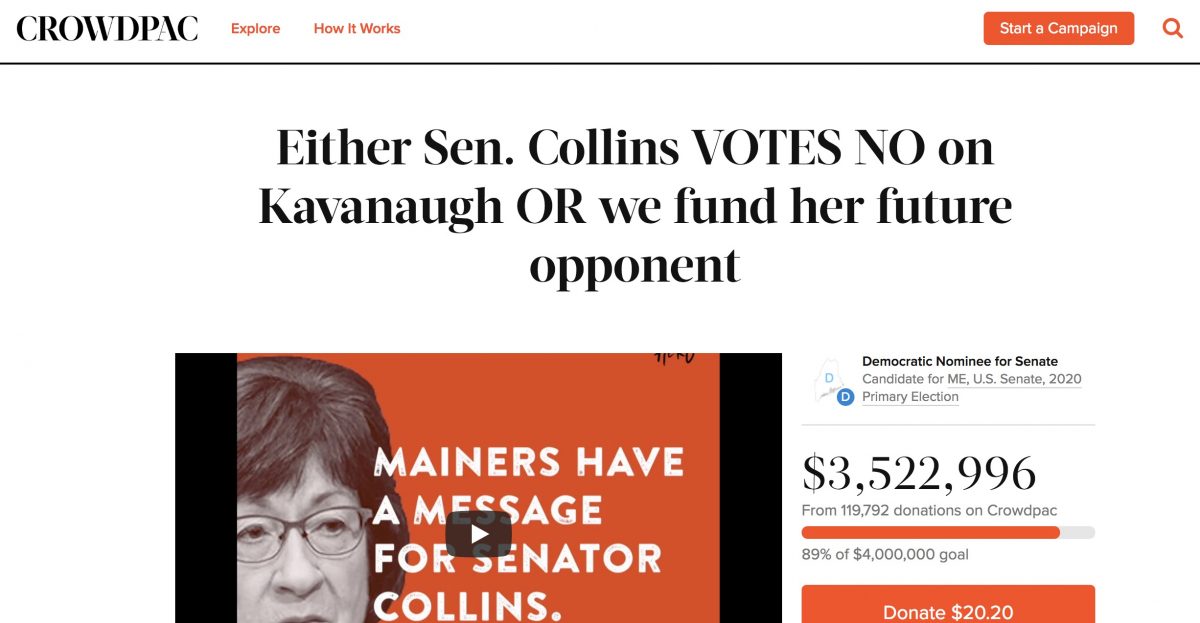 Watch above, via CBS
[image via screengrab]
Have a tip we should know? tips@mediaite.com