Sen. Toomey And Manchin See Glimmer Of Hope For Expanded Background Check Bill On Face The Nation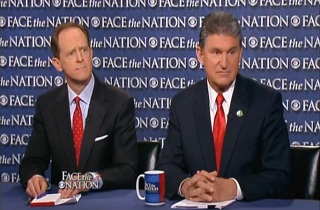 West Virginia Senator Joe Manchin and Pennsylvania Senator Pat Toomey continued their tour of the Sunday shows this morning with an appearance on On Face The Nation. They told host Bob Schieffer that, again, law abiding gun owners will like the bill and criminals will hate it but they're still working on more support from Senators.
Manchin and Toomey are pushing for stronger backing of their gun background check amendment that will cover purchases at gun shows, stores, and on the internet while exempting exchanges between friends and family. The bill is seen as a compromise in the ongoing debate over new gun regulations.
Manchin said that one of the biggest obstacles to the bill is just getting his colleagues to read it. He debunked one of the major myths about the bill, saying that the bill makes it illegal to create a national gun registry. If they would only look at the bill, he said, they'd find that it makes it illegal to register guns. "If any agency tries to to do registration, have a national registry it's a felony, fifteen years imprisonement.
They are close to securing support for their gun control amendment that will expand background checks but they are still not where they want to be. We're close, we're working it," Toomey said.
"We've got bipartisan support but we've got bipartisan opposition too," he said.
Neither of them were confident in announcing supporters of their bill until they come out publicly for it.
Watch clip below via CBS

Have a tip we should know? tips@mediaite.com