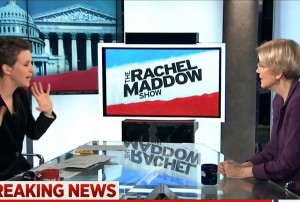 President Obama opened the floodgates on Wednesday when he followed his exit interview with Democratic presidential runner-up Sen. Bernie Sanders (I-VT) with the release of his official endorsement of presumptive Democratic presidential nominee Hillary Clinton. One of the endorsements to follow, and certainly the second-most anticipated, was that of Senator Elizabeth Warren (D-MA), who made her preference known in a lengthy interview on Wednesday night's The Rachel Maddow Show.
Host Rachel Maddow also asked Warren to explain why she didn't endorse during the primaries, a decision which incurred the wrath of many Bernie Sanders followers. Her response isn't likely to change that:
I thought that the primary was really important. And it was an opportunity for Democrats to get out there and show, this is what it means to be a Democrat. We got out there and pushed those issues forward and we made sure that the American people saw the kind of thinking we have, the kind of energy we have, and what makes us very different from those guys on the other side.
Warren never really explained how endorsing during the primary would have prevented any of those things, and indeed, selecting from between the two would have arguably pushed ideas even more forward.
The timing of Warren's endorsement is also a bit strange in a couple of ways. Coming as it did just hours after President Obama's, Warren seems to have blunted the impact of an endorsement that could have helped Hillary win another news cycle, instead of disappearing into the background of this one. It also seems like waiting a few days until after the DC primary might have soothed the hurt feelings of Sanders supporters who feel Berned by Senator Warren.
Have a tip we should know? tips@mediaite.com