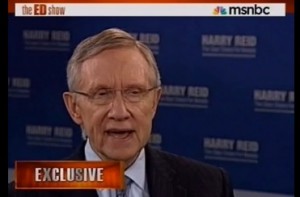 Senator Harry Reid finds himself in a fight for his political life against GOP opponent Sharron Angle, but he may have made the odds for getting reelected as Senator a little tougher with recent comments that have drawn cackles from his critics. During an interview with MSNBC host Ed Schultz, Reid made the rather stunning claim that "but for me, we'd be in a worldwide depression." Wait. Say what?
Reid was explaining to Shultz just how the recession had hit Nevada hard, then followed with the following (emphasis ours):
"So people have been hurting. And I understand that. And it doesn't give them comfort or solace for me to tell them, you know, but for me, we'd be in a worldwide depression. They want to know what I have done for them."
GOP leaders have quickly jumped on the hyperbolic statement. Writing for the Las Vegas Review-Journal, Steve Tetreault reports:
"For Harry Reid to take credit for saving the world, yet take zero responsibility for Nevada's serious economic problems, is either the height of ignorance or arrogance, or most likely, a combination of both," said Brian Walsh. NRSC communications director.

In response, the Reid campaign pointed to remarks by Chamber of Commerce President Thomas Donohue this summer saying the chamber supported the 2009 economic stimulus bill because it thought "we were days away from a global recession."

Reid as Senate majority leader maneuvered the $787 billion bill to passage. "Most business groups and economists believe we were on the brink of a worldwide downturn that would have materialized had we not passed the stimulus," Reid spokesman Kelly Steele said.
Reid and Angle have been neck and neck in recent polls. One wonders if this comment will swing independent voters to the Angle ledger.
Watch the clip below.
Have a tip we should know? [email protected]