Senator Susan Collins Goes Back To Africa To Raise Questions About Susan Rice Nomination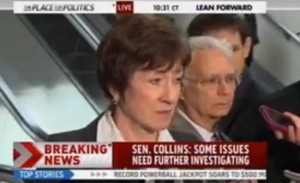 U.S. Ambassador to the United Nations Susan Rice, also the top contender to replace Hillary Clinton as Secretary of State, had another meeting on Capitol Hill Wednesday morning, with moderate Republican Senator Susan Collins of Maine. Following that meeting, Sen. Collins told reporters that she "continues to be troubled" (hmm, sounds familiar) about Ambassador Rice's post-Benghazi talk show appearances, and opened another line of attack on Rice's prospective nomination: her tenure as Assistant Secretary of State for African Affairs, during which bombings of the U.S. embassies in Kenya and Tanzania occurred.
Following her meeting with Amb. Rice, Sen. Collins told reporters "I still have many questions that remain unanswered," and in an echo of Tuesday's post-meeting remarks by Sens. John McCain, Lindsey Graham, and Kelly Ayotte, said "I continue to be troubled by the fact that the U.N. Ambassador decided to play what was essentially a political role at the height of a contentious presidential election campaign by agreeing to go on the Sunday shows to present the administration's position."
Sen. Collins rehashed that which is already known about those Sunday show appearances, but unlike her other Senate colleagues, did make a specific ask of Ambassador Rice. "I'm also very troubled by the fact that we seem not to have learned from the 1998 bombings of two of our embassies in Africa at the time when Ambassador Rice was the Assistant Secretary of State for African Affairs," Collins said, adding that she has "asked for additional information there."
Asked if she would support a Rice nomination for Secretary of State, Sen. Collins' response was somewhat more measured than the McCain Gang's. "I would need to have additional information before I could support her nomination," she said.
Like several Republicans, Sen. Collins offered President Obama some helpful advice about opening up a Senate seat for defeated Sen. Scott Brown, telling reporters that "I think John Kerry would be an excellent appointment, and would be easily confirmed by his colleagues."
When her name was first floated, Ambassador Rice's tenure as e Assistant Secretary of State for African Affairs, and specifically her response to those embassy bombings, was cited as a strength by former Clinton and Bush administration counter-terrorism advisor Richard Clarke. From Bloomberg News:
When Rice was confronted with the 1998 bombings of the U.S. embassies in Kenya and Tanzania while she was assistant secretary of state for Africa, she took over the State Department crisis-management operations center, Clarke said. She was responsible for sending in Marines, closing down other U.S. embassies in Africa and mobilizing aircraft to ferry out the injured, he added.

"When she actually has responsibility for security, she does a spectacular job," Clarke said.
Here's what then-Assistant Secretary of State Rice told PBs in the wake of those 1998 bombings:
ELIZABETH FARNSWORTH: Were either of these embassies particularly vulnerable because they had not been upgraded to be more impervious to bombing?

SUSAN RICE: Well, these embassies, like a number of our facilities around the world, which have been built many years back, do not have the same degree of security in place that would be the case were it to be a new embassy built today. And, as a consequence, the facilities that we're talking about in both these places were not state of the art facilities.

ELIZABETH FARNSWORTH: And what instructions are being issued now to other embassies?

SUSAN RICE: All of our embassies around the world have received warning of this, notice of this, and are taking appropriate precautions. We maintain a high degree of security at all of our embassies at all times, and obviously that high degree of security has been increased even further as a result of this information.
The issue of the 1998 bombings were not an issue during Dr Rice's confirmation as U.S. Ambassador to the U.N., which was achieved through unanimous consent on Jan. 22, 2009.
Here's the clip of Sen. Collins' remarks, from MSNBC:
Have a tip we should know? tips@mediaite.com