Sens. Marco Rubio And Joe Manchin Make Bipartisan Appearance, Blast Birth Control Mandate
Marco Rubio And Joe Manchin Make Joint Appearance, Slam Birth Control Mandate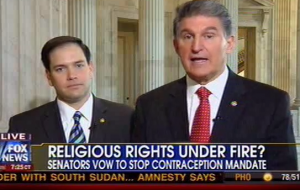 Sens. Joe Manchin (D – W. Va.) and Marco Rubio (R – Fla.) made a joint appearance on Fox & Friends Thursday morning, and before they could even get a word in to start the interview, host Gretchen Carlson began raving about the duo agreeing to appear together.
"Wow, fantastic!" Host Gretchen Carlson exclaimed. "I'm seeing a Republican and Democrat standing next to each other in the same shot. Good morning to both of you! That's a new revelation in the world we've been living in in the last couple of years."
"There's more of us than you think," Manchin said.
Carlson began by asking Manchin why he decided to join forces with Rubio to try to get rid of the mandate. Manchin first explained that it shouldn't be a political issue, then told Carlson that he had done everything he could in trying to talk the White House out of issuing the mandate.
"I thought it was wrong and encroachment on religious freedom and [the] Constitution, and that's really what it should be," he explained. "Marco and I — you know, there are more of us that are working together on common issues and what we think moves this country forward than just playing politics."
Rubio agreed that it's a Constitutional issue. "This is a very straightforward concept," he said. "Here's the question: should the federal government have the power to go in and tell a religion that it has to pay for something that the religion teaches is wrong? It's a very simple question. And I think the answer to that is 'no.'" Rubio added that President Obama, "should have followed the advice of Vice President Biden…who told him not to do this.
"It's not Republican leadership that's outraged by this," Rubio clarified. "It's the Catholic Conference of Bishops that are outraged by this. Some of whom supported ObamaCare when it first passed."
Carlson later moved on to a poll saying that 86% of Americans disapprove of Congress, with only 10% approving. "Will that go up now since they see a Republican and a Democrat standing in connection with to each other?"
Rubio joked that it's an interesting poll, because he has yet to meet anyone who approved of the job Congress is doing. "I understand why they're frustrated," Rubio said. "Let me give you a perfect example. I found common ground on the Agree Act with Senator Coons. It has a host of ideas that Republicans and Democrats agree on. I can't get a hearing on the bill. We can't get a vote on that thing."
Watch a clip of the interview below, courtesy of Fox News:
Have a tip we should know? tips@mediaite.com