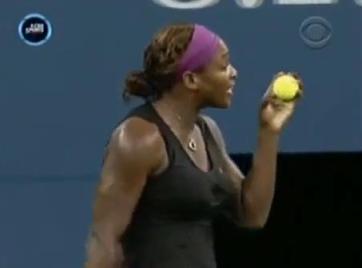 It was a rare conclusion to a tennis match last night in Flushing, as Serena Williams lost her U.S. Open semi-final match to Kim Clijsters on an unsportsmanlike conduct penalty.
"I didn't say I would kill you," said Williams to the line judge she berated a few minutes earlier, before the tournament official made the call to dock her a point – which happened to be match point. So what did she say?
Although it couldn't be picked up in the live broadcast, CBS later replayed the dressing down. "I swear to God, I feel like taking this ball and shoving it down your fucking throat," said Williams, among other f-bombs and comments directed at the judge who had made an admittedly shoddy "foot foul" call.
Does this count as 'threatening to kill' someone? Maybe. After the match, Williams wasn't particularly repentant. "I used to have a real temper, and I've gotten a lot better," she said. "So I know you don't believe me, but I used to be worse."
The clip has been, and will continue to be, replayed on sports shows, but the discussion is going more mainstream as well. The outburst transcends sports, mainly because Serena Williams is such a big star. Said Toure on Twitter, "Will this be the thing people discuss around Serena in 10 years? No. Like Mac, she'll still be loved. But it'll stay in people's minds," and later, "To think Serena got her point penalty because she's Black is absurd. Let's not be blind apologists defending whatever lunacy Blacks do."
It's now become a topic on cable news as well – here's Stephen A. Smith discussing if Williams should be suspended during an MSNBC segment today.
So far Serena has yet to weigh in to her 1 million+ Twitter followers.
Here's the live video:


—-
» Follow Steve Krakauer on Twitter
Have a tip we should know? tips@mediaite.com