'Seriously?': Reporter Refuses to Let Soccer Fans Get Away with 'F*ck Her Right in the P*ssy' Prank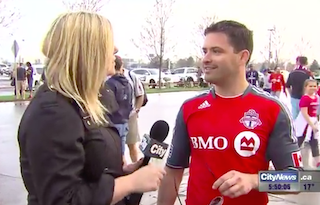 It's been just about a year since we first revealed that the supposed "trend" of people saying "fuck her right in the pussy" during live TV interviews was nothing but a big hoax perpetrated by a man named John Cain with a larger aim of selling t-shirts. But, as Canadian reporter Shauna Hunt found out this week, as long as there are bros who think it's funny to say dirty words on live TV, this meme will not die.
Hunt was reporting outside a Toronto FC soccer match this week when one fan jumped into her live shot and delivered the charming catch phrase into her microphone. She immediately stopped what she was doing and confronted the group of men.
"Were you guys waiting around to see if you could 'F her in the P' me live on TV?" she asked them. When they answered affirmatively she asked, "You were? Seriously? Can I ask why you would want to do something like that?"
They mostly appeared too drunk to give her a coherent response, but Hunt kept it it. "No seriously, it's a disgusting thing to say, it's degrading to women and you would humiliate me on live television?" she asked them, saying she's "sick" of hearing this type of thing on a regular basis. Then she shamed them for holding on to the tired, old meme, to which one guy replied, "It's been like a year!"
Last fall, female journalists at the CBC penned an op-ed calling for the end of "FHRITP" pranks, calling them "violent and offensive" and saying those who engage in them suggest "that a woman who is doing what can be a pretty serious and intellectually rigorous job can be reduced to simply a sexual object which can be taken at will."
Of course, less than four months later, a man pretending to be a Delta passenger did just that to none other than MSNBC's Andrea Mitchell.
Watch video below, via City News:
[h/t Gawker]
[Photo via screengrab]
— —
>> Follow Matt Wilstein (@TheMattWilstein) on Twitter
Have a tip we should know? tips@mediaite.com