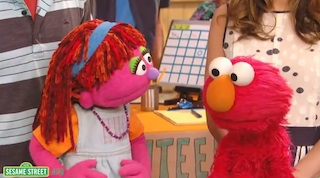 A few years ago, the South African version of Sesame Street made headlines when it introduced a new muppet to represent one of the continent's many children who are HIV positive. This week, America's version of the show will get a character of its own to represent one of the social problems facing our nation's children. Lily, the new muppet, is meant to represent one of the many impoverished American children who frequently go to bed hungry.
While much has been made of the childhood obesity in our country, a new Sesame Street special will focus on childhood hunger, a large problem that, in part, can be attributed to some of the same issues. The special, entitled Sesame Street: Growing Hope Against Hunger, will air in primetime and feature Lily encountering a number of popular characters and discussing the problems she faces.
Quotes in the New York Times show just how much thought the educators and entertainers at Sesame Workshop put into developing a character like this:
"'We thought long and hard about how do we really represent this from a child's point of view?' Jeanette Betancourt, Sesame Workshop's senior vice president for outreach and educational practices, said on Monday morning in a telephone interview. 'We felt it was best to have this new Muppet take this on in a positive way and a healthy way.'

Ms. Betancourt said that she and her colleagues spent time considering all the elements of Lily's character that would make her realistic but empathetic to young viewers: her style of dress, her voice performance and even mannerisms, like her tendency to look down at her feet rather than make eye contact when she is speaking to other characters."
You can see these attributes in a highlight reel below which the show posted on YouTube ahead of the special's premiere. It's certainly a downer but, in matching the special's title, is wrapped in a message of hope.
(h/t Gawker)
Have a tip we should know? tips@mediaite.com