Seth MacFarlane Recounts The 'Really Angry, Angry' Phone Call Jon Stewart Made To Him In 2008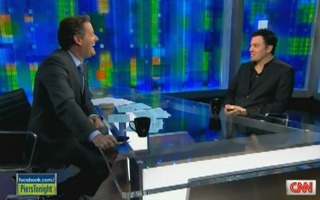 Had you ever heard of a feud between Family Guy creator Seth MacFarlane and Daily Show host Jon Stewart? Me neither, as I also generally try to avoid anything remotely Family Guy-related whenever possible. Except The Simpsons. But CNN's Piers Morgan did a little digging into his guest's past and learned that Stewart had once placed a rather lengthy phone call to MacFarlane, apparently very upset over a Family Guy bit that had mocked the The Daily Show's decision to air a new episode amid the 2008 writers' strike.
Shared MacFarlane:
Yeah, it was an angry call. And, suffice it to say, he is a phenomenally good debater. If you had been keeping score, I would've lost roundly. […] I was really kind of in shock more than anything else. I mean, it was kind of an odd Hollywood moment. I mean, I was a huge fan of how show, and here I was getting this phone call, you know, really angry, angry phone call.
He added that, regardless of how successful that strike was or was not, he had felt that it was "incumbent upon people in a certain position to stand up for the people who haven't made it yet, if they can." Stewart's take, as MacFarlane summarized it, was something along the lines of "Well, who the Hell made you the moral arbiter of Hollywood?" (Answer: Manatees.)
Morgan's reaction was an interesting one:
But not if you're, as he is, are the self-appointed moral arbiter of Hollywood. Which is exactly what the position he plays is. There's a certain irony in Jon Stewart ringing up haranguing you for mocking him.
"I mean, if I say yes, he's going to crucify me on his show every night for a year," joked MacFarlane. (Oh. Honey.) "Let's take him on together!" suggested Morgan. "I'm not scared."
MacFarlane, very much to his credit, handled the issue gracefully, sticking to his guns while conceding that the Family Guy gag was "probably so over the line in its ruthlessness that it probably could have been more measured in its execution." Fair enough, right?
As you may have gathered, I don't watch Family Guy and am unfamiliar with the episode being discussed. So if you want to describe it or happen to have a clip of the scene in question, please feel free to send it my way.
In the meantime, watch the interview for yourselves, via CNN:
Have a tip we should know? tips@mediaite.com