Seth Meyers Challenges Ted Cruz on Climate Change, Obamacare, and Gay Marriage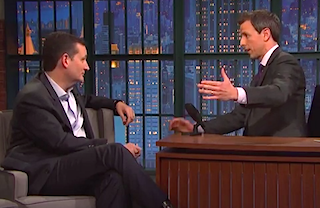 Sen. Ted Cruz (R-TX) not only made his Morning Joe debut this week, he also popped up on another NBC platform, Late Night with Seth Meyers. And while he was there, the host did not exactly let him off easy on a variety of topics, from climate change to Obamacare to gay marriage.
The senator repeated his line about the media turning him into Freddy Kreuger after he told a little girl that "the world is on fire." But what Seth Meyers wanted to know was if Cruz had finally accepted man-made climate change.
"First, I got excited, because I thought maybe you were coming around on global warming," Meyers said. "Because I think the world's on fire, literally. Hottest year on record."
Cruz referenced the "snow and ice" in New Hampshire as one piece of evidence against climate change and argued that satellite data shows the earth has not warmed at all.
Later, when Cruz brought up his epic filibuster to stop Obamacare, Meyers asked him, "How did it go?" to cheers from the crowd. In Cruz's formulation, it went "fabulously," leading to the Democrats losing the Senate in 2014 and what he predicts will be a GOP victory in 2016 — though he did not admit to hoping he will be at the top of the ticket.
Finally, Meyers asked Cruz why he opposes gay marriage when polls show that 59% of Americans support it and it seems "inevitable" that it will become the law of the land. The senator framed same-sex marriage as primarily a states' rights issue without mentioning the religious basis for his particular views on it.
Watch videos below, via NBC:
[Photo via screengrab]
— —
>> Follow Matt Wilstein (@TheMattWilstein) on Twitter
Have a tip we should know? tips@mediaite.com